"We have to acknowledge the wounds to be able to heal them"
The PETROL GIRLS are furious. This anger is not chaotic though, but rather directed sharply at the problems of society. With their hard music and their critical lyrics, the band featuring singer REN ALDRIDGE addresses topics like feminism and anti-capitalism. In May their new album is going to be released. Anne-Marie Darok spoke with the singer about safe spaces where people can let off steam, about her musical role models, and about her desire to end capitalism.
How did you come together as Petrol Girls? The band members are from all over Europe?
Ren Aldridge: Joe [Joe York] and I knew each other growing up, then we met Liepa [Liepa Kuraitė] at university, and Zock through friends involved in the punk scene in London. We started off in London but left because it was too expensive to live there, and the quality of life is terrible.
And where is your base as band – in Austria or in the UK?
Ren Aldridge: We're now based in Austria between Graz and Vienna.
What is the biggest difference between the Austrian and international music business?
Ren Aldridge: I suppose Austria just feels much smaller and friendlier!
"I just decided to allow myself to express how hurt I've been by women whom I thought of as my sisters."
In the song "Sister" you sing about how disappointed women are in fellow women, because of their fakeness. In our Western society there are two "trends": On the one hand, you have the strong sisterhood, and, on the other hand, you have women who tell each other to beware of female colleagues, because they will stab you in the back. Why do women not trust each other, especially in the workplace? And how can you fight it?
Ren Aldridge: What I wanted to express in "Sister", is that sisterhood doesn't always go the way we want it to. It's nothing to do with accusing anyone of being fake. I just decided to allow myself to express how hurt I've been by women whom I thought of as my sisters: 'I have been kicked in the gut by women who took a leg up, then refused to lend a hand, who ignored and spat down on their sisters.' In music we hear a lot about romantic love, and it's fine to write songs about heartbreak, but I have never been more hurt than the times that I've been betrayed by friends who are women.
We're a feminist band, and with this sometimes comes pressure to act like the sisterhood is totally flawless and perfect – but that isn't true, and it's a damaging thing to project. We hurt each other. We make mistakes. We get angry. We have to acknowledge those wounds to be able to heal them. We need to face up to the reality of how hard it can be to nurture supportive friendships between women under a patriarchy that pits us against each other all the time. One of the biggest things that feminism has taught me is how important it is to face up to our mistakes – this is the history of feminism. The current wave of feminism is working on intersectionality – on making sure that feminism is inclusive of people of colour, trans people, disabled people, and groups that are oppressed in different ways.
It's interesting that you bring up the workplace, because capitalism is what creates these conditions in which everyone, minorities in particular, are pitted against each other in competition. My ideal answer is that we need to end capitalism! But on a more day-to day-basis, I just think we have to try to support each other in whatever way we can, and if we are hurt by one another to address it, and if we have hurt someone, try to understand why and how to fix it.
In Austria you already have a few bands which were formed at the Girls Rock Camp. I talked to some of them and they almost always told me that before the Camp they never tried to play traditionally male instruments. Only in the Camp did they open up to more than just the role of the singer. How can you include men and boys in this conversation? Or should there be exclusively female spaces?
Ren Aldridge: Girls Rock Camp is awesome! I think it's super important that there are spaces for women, girls, non-binary and trans people to have a go at making music without men in the room. We are brought up in different ways, and those of us who are not men tend to not be encouraged to take up instruments like guitar or drums in the same way. Men can be really intimidating in these situations. Also, women, girls, non-binary and trans people are statistically likely to have experienced harassment or sexual violence from men, so it's also nice to create spaces away from this dynamic.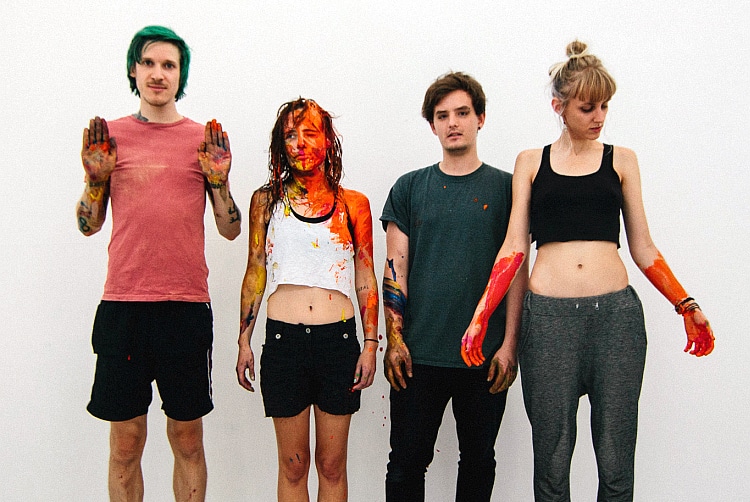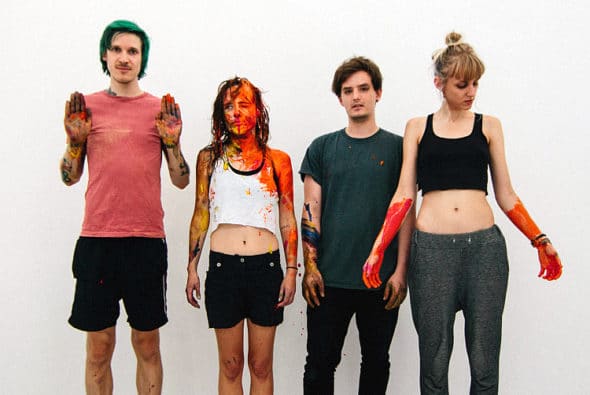 "It's just really disappointing if someone is more interested in how you look than what you play or have to say."
Female musicians also told me about the "complements" they get after a concert. Guys tell them how pretty they look on stage. Is that something that you also experienced? And what is the best reaction?
Ren Aldridge: We're quite an aggressive band, so we don't tend to get approached in the same way as a lot of other bands with women. After they've heard "Touch me again and I'll fucking kill you" they tend to keep some distance. I have experienced it though, and I don't really know how best to handle it. It's just really disappointing if someone is more interested in how you look than what you play or have to say.
Petrol Girls Are the female and male band members of the Petrol Girls viewed differently? Or do people treat you in the same way?
Ren Aldridge: In the community that we tour in, we are mostly treated as equals. Of course, Liepa and I sometimes experience sexism, even within a scene that sees itself as very feminist. There have been awful sound technicians who patronize me and Liepa but leave the guys alone for example.
You mix politics and music together. Which part is more important to you, the music itself or the lyrics? 
Ren Aldridge: This is obviously different for me than for the rest of the band because I'm the vocalist. The lyrics are super important to me because that is how I express myself! I know that for the others, the music comes first, though of course everyone cares about both aspects.
I've read that you come from the music DIY scene. How does this influence the way you write songs?
Ren Aldridge: I think it probably influences the politics in our music more than the song writing process itself. We have written songs in a lot of different ways, and I think we still have a lot more to learn or to try out. DIY stands for "Do It Yourself", which is really empowering, and I think encourages us to try new things all the time, instead of thinking we have to be an expert. This is one of the great things about punk music in general!
If you play your songs on YouTube and you leave the auto play on, then songs by Hole appear after some time. And the musical resemblance is kind of obvious. Is Hole one of your heroes or are there other bands and musicians who have more influence on your music?
Ren Aldridge: You know, I've never really listened to Hole much, so I'm actually listening now whilst I answer this interview and loving it. Everyone in the band has very different music tastes. Liepa and Joe are into a lot of math rock and electronic music, whereas Zock and I are more into punk. Some of the bands or artists who  have influenced us are Refused, Björk, RVIVR, War On Women, At The Drive In, Fugazi, The Bronx, The Slits, and Bikini Kill.
What is your best tip for young bands and musicians who want to pursue music as their main jobs?
Ren Aldridge: Prepare to be utterly broke beyond your wildest dreams! I'm not sure I'm the best person to ask as I'm really struggling to get by and can barely pay my rent. Music is a lot of hard work for no money. If you're gonna do it, do it because you love it.
What are your plans for 2019? Tour, new album…?
Ren Aldridge: We've got a huge tour coming up with the band War On Women in the summer and we're releasing our new album plus a ton of music videos which we're working on at the moment. It's shaping up to be a super busy year and we're very excited!
Thank you for the interview!
Anne-Marie Darok
---
Links:
Petrol Girls (bandcamp)
Petrol Girls (facebook)
Tour dates:
05/04/19 Brighton, Ladyfuzz Fest, UK
05/05/19 Leicester, Handmade Festival, UK
05/07/19 London, House of Vans, UK
05/09/19 – 05/11/19 Brighton, The Great Escape, UK
05/22/19 Antwerp AntiFest, Belgium
05/23/19 Amersfoort Fluor, Netherlands
05/27/19 Nottingham, Rough Trade, UK
05/28/19 Bristol, Rough Trade, UK
05/29/19 London,Rough Trade, UK
05/31/19 London, New Cross Inn, UK
06/01/19 Manchester, Hell Hath No Fury FestUnited Kingdom
06/03/19 Glasgow, Autonomous SpaceUnited Kingdom
06/04/19 Stafford, Red RumUnited Kingdom
06/04/19 Exeter, The CavernUnited Kingdom
06/07/19 Brussels, Magasin 4Belgium
06/08/19 Cologne, AZ, Germany
06/10/19 Nuremberg, Kantine, Germany
06/11/19 Prague, Underdogs, Czech Republic
06/12/19 Wiesbaden, Schlachthof, Germany
06/13/19 Wermelskirchen, AJZ Bahndamm, Germany
06/14/19 Stuttgart, Jugendhaus West, Germany
06/15/19 Paris, Gibus, ClubFrance
06/16/19 Lyon, Le Farmer, France
06/18/19 Zurich, Dynamo, Switzerland
06/21/19 Munich, Glockenbach Werkstatt, Germany
06/22/19 Moers, Bollwerk, Germany
07/11/19 Cheltenham, 2000 Trees Festival, United Kingdom
07/13/19 Haarlem, Kliko Fest, Netherlands