We would like to thank our partners and supporters in Austria and abroad as well as the amazingly talented artists for another year full of festivals, showcases, networking events and inspiring talks. Have a look at the Austrian Music Export Highlights in 2018. We are looking forward to seeing you again in 2019!
Focus Acts 2018
For the fourth time now, Austrian Music Export and the Austrian Federal Chancellery were able to offer the FOCUS ACTS grants to up-and-coming Austrian artists. Ankathie Koi, AVEC, Cari Cari, Hi5, Manu Delago and Shake Stew each received a travel allowance of 5,000 € for their international tours which led them to Ireland (AVEC) to the USA (Manu Delago) or to Mexico (Ankathie Koi).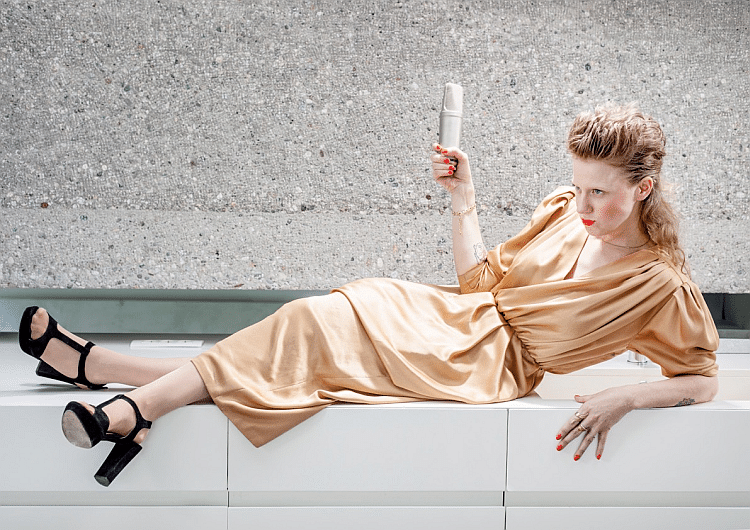 POP / ROCK / ELECTRONIC
Once again the year began with the Eurosonic Noorderslag Festival from 17th to 20th of January. AVEC, Ankathie Koi, Cari Cari, Hearts Hearts, Thirsty Eyes and Nihils presented themselves to an international audience of experts and were booked by international festivals as a result of the support of the European Talent Exchange Programme (ETEP). The XA – Music Export Award winners, Cari Cari, were ranked 6th among the most booked ETEP acts from all over Europe. As part of the festival, the newly established European music prize "Music Moves Europe Talent Award" will be awarded in 2019. Austria led the ranking together with France and Belgium with three nominated artists – Avec, Naked Cameo and Stelartronic. In November 2018, Avec and Stelartronic were announced as winners in the categories Singer/Songwriter and Electronic.
This year's focus country, Portugal, took Austrian Music Export to the Westway Lab Festival from April 11th – 14th. With them the artists AVEC, Cari Cari, Molly, Motsa and Leyya. Besides an Austrian Heartbeats Reception with drinks and good music made in Austria, Austrian Music Export organized international speed meetings and presentation panels. The duo Cari Cari also took the chance of an Artist Residency. Portuguese delegations, specific panels and country receptions also became an important part of Waves Vienna 2018 in September. As with almost all showcase festivals where Austrian Music Export was present, B2B mailings were sent to a select circle of international journalists, industry participants, and multipliers.
Numerous festivals throughout the year provided a stage for local artists and Austrian receptions. In February, MENT Ljubljana presented five acts from Austria: out of more than 1500 applicants, 5K HD, Dorit Chrysler, Mavi Phoenix, Mother's Cake and Wandl were selected to take part. An Austrian Heartbeats Reception and a meeting with Austrian promoters were well received by artists and industry experts to expand their own network.
From 9-18 March, Austria presented a selection of its most innovative artists and entrepreneurs from technology and culture at South By Southwest 2018 – SXSW for short. Five bands, among them Leyya and Kids N Cats, had the rare opportunity to give their best on the stages of probably the largest creative and innovation fair in the world. Austria's presence at the SXSW is an initiative of Außenwirtschaft Austria in cooperation with Austrian Music Export, the Creative Region Linz & Upper Austria and the Vienna Business Agency.
For the first time in April a delegation of the Austrian music industry went to the quite young showcase festival Spring Break in Poznan. Molly, Nihils, Lea Santee, Mavi Phoenix and Aramboa presented themselves to the international audience.
In May Austrian Music Export continued a long-standing cooperation with The Great Escape in Brighton. Aivery, Avec, Cari Cari, Mavi Phoenix and Mother's Cake were given the opportunity to make contacts with one of the most important music markets at the English festival, one which unites up-and-coming artists from all over the world. Mavi Phoenix was probably the most active newcomer in 2018, performing as well at the Primavera Sound Festival, which also invited Cari Cari and Wandl to Barcelona. Besides their gigs in the festival program the two promising acts showcased also at the Austrian Heartbeats Reception and convinced the invited audience. Rolling Stone Italia even called Cari Cari "THE surprise of the festival".
"EARS on Mumbai" took Austrian Music Export to India for the first time. Austrian Music Export took part in the panel "Music Strategies – A Conversation with European Music Export Agencies" in the person of Franz Hergovich. In addition, there were meetings with future project partners from Asia in order to explore future cooperation.
From 19 to 22 September the local music industry set off again for the Reeperbahn Festival in Hamburg. Cari Cari successfully closed their export year together with nine other artists (At Pavillon, Dives, Flut, Jugo Ürdens, Naked Cameo, Petrol Girls, Tents, The Crispies, Yukno) as well as the international Lomboy (BE/AT) and RAN (DE/AT). More than 20 additional appearances, radio and acoustic sessions as well as numerous interviews and media appointments were made possible thanks to the cooperation with the Hamburg agency Factory 92. The PR campaign on the occasion of the Reeperbahn Festival was also extended by inviting German media representatives to the Wiener Popfest and Waves Vienna.
The Waves Vienna Music Festival & Conference 2018 is an annual highlight for efforts on internationalisation. Hundreds of national and international music experts, organisers, label owners, bookers, and musicians meet during the day at the Waves Vienna Music Conference for discussion and networking at the Vienna WUK. 30 bands from Austria presented themselves in front of around 900 participants, including European radio journalists from the EBU stations. The well-attended Austrian Heartbeats Delegates Tour led international visitors to off-showcase and a performance of At Pavillon at the Wiener Funkhaus for Radio FM4. On the final night of the festival the 2nd XA – Music Export Award was awarded to the indie rock band DIVES.
Contemporary music
In the field of contemporary Music, the new cooperation with the Operadagen Rotterdam, one of the most renowned festivals for Music Theatre, is evolving. In 2019 there will be a focus on Austria, in which Austrian music theatre will be presented to international organisers, producers, authors and musicians.
In 2018, works by Peter Jakober, Klaus Lang and the Duo Siedl/Cao, selected by Guy Coolen (Operadagen Rotterdam), Thomas Desi (Musiktheatertage Wien) and Veronica Kaup-Hasler (formerly cultural manager), were presented to an audience of experts in Rotterdam. These works, together with seven other works, were also presented at the Musiktheatertage Wien in June as part of a Producer´s meeting. The organisation of the Austrian focus at the Operadagen Rotterdam will be linked to the Musiktheatertage Wien. The existing exchange will be intensified.
In November, a panel discussion in Vienna was dedicated to the topic "Concert Promotion and Risk-Taking". In cooperation with Wien Modern, the discussion and a network reception after focused increasingly on international networking. Concert promoters and curators from all over Europe discussed the topics of risk taking and security in concert operations. This format will also be expanded in 2019: will be invited to a networking event combined with concerts for small ensembles.
JAZZ AND WORLD MUSIC
The jazzahead! in Bremen, one of the most important international trade fairs for jazz, presented Lukas Kranzelbinder and his band Shake Stew in April. Austrian Music Export – in the person of Helge Hinteregger – took part in the annual meeting of the EJN – Europe Jazz Network and the 5th European Jazz Conference in Lisbon (PT) from 13 to 16 September 2018. Austrian Music Export used both events to discuss projects on internationalisation and to forge joint plans for the future.
In June Austria was strongly represented at this year's INJAZZ Festival in Rotterdam. The festival, whose audience consists of accredited representatives of the international jazz and world music scene, focused on the music scenes of Austria, Switzerland and Italy. Tina Heine (Jazz & The City), Helge Hinteregger (mica, Austrian Music Export), Mario Steidl (Jazzfestival Saalfelden) and Alfred Vogel (Bezau Beats/Boomslang Records) took part in the panel "Jazz in Austria". Martina Laab (IG World Music Austria) was guest speaker for "Experts on Export". Musically, Austria was represented by Woody Black 4 and Exit Universe.
In cooperation with the International Jazz Festival Saalfelden (August 23-27), Austrian Music Export once again focused on the local jazz scene and invited ten promoters from all over Europe to the domestic jazz festival with international appeal. Austrian Music Export organised an international Get-Togehter to kick off the festival, during which Austrian musicians could get to know the festival organisers, press, and sponsors. The programme of the 39th edition featured Little Rosies Kindergarten, Schmieds Puls, Orges & The Ockus-Rockus Band, Fainschmitz, Synesthetic 4, Shake Stew, Die Strottern and Dobrek Bistro, as well as an opening with the saxophonist Ulrich Drechsler and the artists Clara Luzia, Özlem Bulut, Yasmin Hafedh, Peter Zirbs, Simon Raab, Judith Ferstl and Judith Schwarz. Outstanding young jazz and world music artists showcased and performed high-class concerts on a variety of stages – from small alpine stages in the mountains to the big concert stage in the heart of Saalfelden.
This year Austrian Music Export was also in charge of inviting international promoters to Jazz & The City Salzburg, including BMC / Budapest (HU), Jazzfestival Berlin (GER), Jazzfestival Münster (GER), Feel.Jazz Hamburg (GER), All About Jazz (NL) and Jazzfestival Manchester (UK). For the first time in Finland, at the beginning of November, the focus was on jazz from Austria. The opening of Tampere Jazz Happening was dedicated to the Austrian formations Mario Rom's Interzone, Kompost3 and Elektro Guzzi.
At the end of the year, 21 international festival organisers followed the invitation for the third edition of Kick Jazz. The venue Porgy & Bess once again proved to be a strong partner, without whose hospitality and international standing Kick Jazz would not have been able to become what it is today: an important showcase event for the young domestic scene. BartolomeyBittmann, Synesthetic 4, Golnar & Mahan and the Roman Britschgi Quintett, among others, performed first-class shows on the stage of the renowned jazz club.