The Great Escape (TGE) is a festival that showcases emerging artists from all over the world. Over 450 up and coming bands play in 35 Brighton venues, which makes TGE the first place to discover new favorite bands and see them in an intimate setting before they go on to headline major festival stages. Among the the first artists that will join the 2018 line up are Pale Waves, Lewis Capaldi, Bad Gyal, Dream State and many more.
From Austria, Mavi Phoenix brings her unique blend of rap, r'n'b and contemporary pop to Brighton. Also joining the line-up are XA Export Award winners Cari Cari, Aivery, AVEC and Mother´s Cake.
In the last years, Austrian acts such as James Hersey, Leyya, Salute, Mieux, Bulbul, Mile Me Deaf and more played successful showcases in Brighton. TGE is also attended by the music industry who are on the hunt for the next big thing. TGE runs a convention alongside the gigs featuring insightful panels, topical debates, keynote speeches and networking opportunities in abundance. The Netherlands will be TGE´s lead international partner in 2018, which means, the festival will be highlighting The Netherland's music industry and new talents throughout the program. The Alternative Escape, the Brighton Dome Shows, secret gigs, club nights and spontaneous collaborations all add to the festivities. Read more: www.greatescapefestival.com
AUSTRIAN HEARTBEATS MATINEE SHOWCASE
Friday, May 18, 12-04pm, The Prince Albert (48 Trafalgar Street, Brighton)
Those who want to get a taste of Austria in one quick stop can join us for a festival warm-up at The Prince Albert on Friday, 18th May and enjoy four Austrian showcases and a B2B reception. It is a perfect chance to not only see some great up-and-coming Austrian bands but to mix and mingle with members of the Austrian music business.
Schedule
12:00pm : Delegate Reception
12:30pm : Cari Cari
01:30pm : AVEC
02:30pm : Aivery
03:30pm : Mother´s Cake
---
AUSTRIAN ARTISTS AT TGE18
AIVERY
Guitar, bass, drums: Aivery is a young band from Vienna. On their full-length debut "Because", Aivery reveal themselves to be a band that doesn't worry about being hip and prefer instead to do their own incredibly cool, authentic, and unglamorous thing. Franziska Schwarz (bass, vocals), Doris Zimmermann (drums) and Jasmin Rilke (guitar) – the three heads behind the Viennese band – aren't shy about their music preferences. Their songs, enriched with elements of punk and noise, are a celebration of the grunge of days long since past. In other words, this trio's songs get raw and edgy.  Aivery combine their powerful guitar riffs, multifaceted vocals, surging bass-lines and super heavy drum sound into something completely self-contained. A mangy form of grunge that is anything but classic or nostalgic.
Gigs
Prince Albert, 2:30pm Friday
The Walrus, 11:15pm Friday
AVEC
Since the release of her first EP Heartbeats in 2015, AVEC has graced the stages of Reeperbahn Festival 2016 with the likes of Biffy Clyro and Get Well Soon, Vilar de Mouros Festival in Portugal with Primal Scream, Morcheeba and The Dandy Warhols, and opened for Zucchero at Burg Clam in her native Austria. In early 2018, AVEC performed at Eurosonic Noorderslag Festival and soon there will be a new single out. Currently AVEC is finishing her new album in Ireland, the release can be expected in autumn 2018.
"Thoughtfully crafted, 'Waiting For' was inspired by the feeling of anticipation as a constant condition in the human journey through life and features AVEC's velvety voice texture underpinning the flawlessly delicate sound." – Music Week
Gigs
Prince Albert, 1:30pm Friday
Latest Music Bar, 11:45pm Saturday
CARI CARI
Not many bands manage to hit the international stage from the very beginning. But CARI CARI – aptly named the "lovechild of The XX and The Kills" – have done it their way: first taking on the world and then Austria. Their single "White Line Fever" was licensed for the series "Shameless", they have done a no-budget tour of Australia (a documentary is in the works) and their songs have been praised in blogs and online magazines. The band won the first ever XA Export Award at Waves Vienna Festival in fall 2017 and continued to wow audiences at Eurosonic Noorderslag.
Gigs
Volks, 9:00pm Thursday
Prince Albert, 12:30pm Friday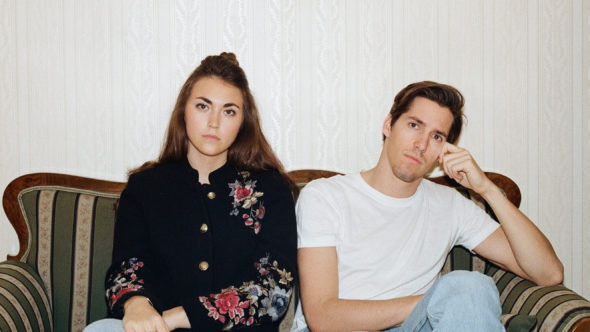 MAVI PHOENIX
Mavi Phoenix is the woman current music pessimists are pinning their hopes on. Originally from Linz, she is now moving on the international stage. Her refreshing sound moves fluidly between rap, r'n'b and contemporary pop and already placed her #1 on global Hype Machine Charts. After the release of her second EP "Young Prophet", "The Fader" described her as a "Lo-fi pop heroine" ready for the big time.
Gigs
Komedia, 8:15pm Friday
MOTHER´S CAKE
Helping rock with progressive elements find new fields of expression might be one the the musical goals of the Tyrolean band Mother's Cake. With their debut album "Creations Finest" (2012), they managed to draw first attention to themselves. But it was their follow-up album in 2015, "Love the Filth", that finally brought them to the international stage. The band, that accompanied the British progressive metal band Anathema on their Distant Satellites tour, likes it loud, powerful, edgy and psychedelic with multifaceted and thoughtfully arranged songs. In January 2017 they released their third album, "No Rhyme No Reason".
Gigs
Prince Albert, 3:30pm Friday
Green Door Store, 12:15am Saturday
---