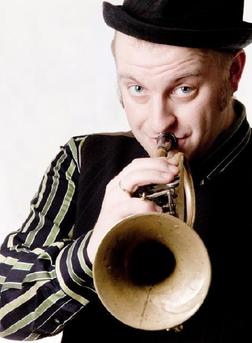 He is a musical madman in the most positive sense, an artist with a vast field of activities, an instrumentalist who always seeks new challenges and whose trademark is the openness to almost all musical forms, a musician who strives to create his own artistic freedom and has long established himself with his various projects beyond Austrian borders. The musical career of the trumpeter Thomas Gansch, who was born in 1975 in St. Pölten, has ultimately led him from brass music to jazz, whilst always avoiding blinkered thinking or the likes of it in his work. This makes him one of the most creative and innovative musicians of the young local jazz scene. No matter in what context, whether as a duo, in an ensemble or a large format, the Lower Austrian has always been able to enhance his performances with his own special virtuosic note and incredibly versatile touch.
Thomas Gansch's music career was practically predetermined at his birth. His father, head of a brass band music school, bandmaster of the chapel in Melk and also known as a "music maniac", taught the young man how to play the trumpet at a very early age. Inspired by his brother Hans, who played in the ORF Symphony Orchestra Vienna, Gansch was very passionate about refining his musical skills and sound language. Initially Gansch was strongly influenced by brass music, but with age he discovered more and more of the genre jazz.
As stated by Thomas Gansch himself, a lasting impact on the trumpeter was a television performance by John Gillespie, which completely sparked his fascination for this genre. After school, he started studying trumpet at the University for Music and Performing Arts in Vienna in 1991, but quit after six years. As a free spirit, he felt the creative urge to unfold and develop himself in another direction and felt too limited in this place. To meet his own standards, he indulged in music with the brass band Mnozil Brass, which he co-founded during his studies in 1992 and with which he still thrills various audiences to this day.
In 1997 Thomas Gansch became acquainted with the classical bassist Georg Breinschmid, who also didn't feel at home in his former musical environment (such as the Vienna Philharmonics, Vienna Symphony Orchestra). Sharing the same passion for music and Monty Python films, they quickly became friends and decided to make common cause. Over a year the two Lower Austrians met in secret to practice on a weekly basis, before they finally went public with their jazz aspirations. During a session in Vienna's Porgy & Bess, Gansch and Breinschmid were hired on the spot by none less than Mathias Rüegg for the Vienna Art Orchestra, where they played from 1998 to 2006. Gansch often refers to the time in the Vienna Art Orchestra as his "true" study period, since he was given the opportunity to learn from many outstanding personalities.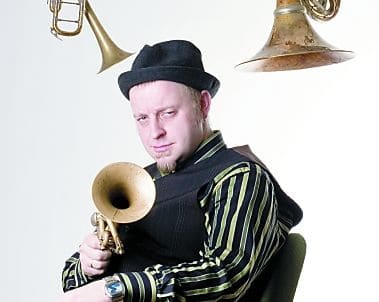 Another milestone in the career of the trumpeter who also worked here and there as a composer (for example Thomas Gansch wrote, together with his colleagues from Mnozil Brass, the music for the opera "Irmingard" for the Salzburg Festival), is the great success of the first own project Gansch & Roses. Founded in 2001, Thomas Gansch managed to immediately thrill a great legion of critics and fans with his uncommonly lively, humorous, diverse and complex version of jazz. His numerous collaborations and performances with renowned international musicians, bands and orchestras such as Dr. Kurt Nilsen, the Lower Austrian Composers Orchestra, the Vienna Symphony Orchestra, Patti Smith, Konstantin Wecker, Bob Brookmayer, Alegre Correa Group, Nouvelle Cuisine prove all the more that Thomas Gansch enjoys a respectable position and reputation across the globe.
The winner of numerous awards (such as the Hans Koller Jazz Award for "Newcomer of the Year" in 2002) always presents himself as an artist who is a step ahead of his time. He is an instrumentalist, who primarily feels at home at the interfaces between the contemporary genres of music. No matter whether in jazz, improvisation, classical or world music, it is evident that he a firm virtuosic grasp on every genre. With the ability to always reinvent his own style and music, to lift it to the next artistic level, we may assume that we will be hearing a lot more from this extraordinary trumpet player in the future.
Michael Ternai
(translated from German)
www.ganschandroses.at
Photos: Julia Wesely