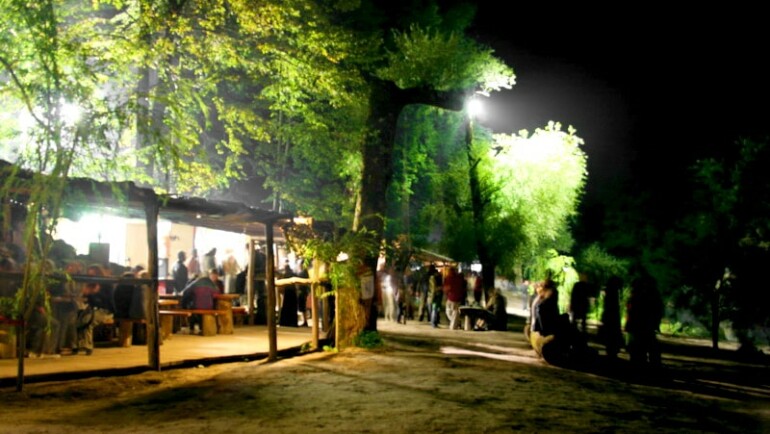 The 18th edition of Art & Music Festival SAJETA will take place at Sotočje, the confluence of two beautiful alpine rivers in Tolmin, Slovenia from 3rd till 9th July 2017. Austria will be represented at this years festival by three well known acts: the violinist Mia Zabelka, voodoo-kraut-dub pioneers Villalog, and the DJ, producer, and composer Electric Indigo.
SAJETA is a hidden, boutique festival for not more than thousand people that offers its' visitors a diverse, cross-genre, and most of all creative program in a picturesque surrounding. The main features of SAJETA's identity are concerts, workshops, films, performances, exhibitions and children's program. All of this is also reflected in the scenery and setting of the festival.
The main programme of the Sajeta Art & Music festival is an international music programme accompanied by creative workshops, interesting activities for children, public debates, performances, exhibitions and screenings.
From Wednesday to Saturday, more than fifteen concerts with very diverse music and musicians from all over the world will be held at Sotočje and at the Tolmin theatre.
DAY 1
The Wednesday (5th July) introduction to the main programme of the 18th Sajeta at Sotočje belongs to the less established progressive music scene. The cross-border (Italian-Slovenian) project Kača, Sraka in Lev Quintet relies on the tradition of modern improvised jazz. Even though they are no strangers to Sajeta, they will be appearing in this form for the first time. Trans Quartet is a story written by artist and guitarist from Posočje, Aleš Valentinčič – Brdonč, who upgraded the Trans trio into a quartet with which he will present his newest work at Sajeta. The Hunting Dogs is a Croatian-Italian younger generation combo presenting their 'Electro-Shocked Pop' – a pretty diverse style of music, based on electronic sounds, influenced by different genres. The evening will end with the Italian light-sound collective Hybrida Space from Tarcento.
DAY 2
For Thursday (6th July), the legendary New Yorker Phill Niblock will honour the 18-year-old Sajeta with his presence. We will be able to see his performance at the Tolmin Theatre, where his video installation will also be set up. He will be joined by video artist Katherine Lyberovskaya and Sajeta's old friend, sound artist, violinist Mia Zabelka. The Japanese innovator from Berlin, the developer of the 'Hyper-Serial-Music' algorithm, Tatsuru Arai will perform an audio-visual live set and the Slovenian researcher of audio-visual worlds Tadej Droljc will present the visualisation of sound from his perspective. Bersarin Quartett is a project by the German creator of minimalist ambient music Thomas Bücker, also reserved for Thursday night. He will perform together with a guitarist and with the help of cinematographic surround sound for the perfect audio experience. For the second half of the Thursday evening we will change the location and return to the regular Sajeta venue – Sotočje, where we will be entertained by the creator of electronic sound Lifecutter and the Analogue/Digital producer Roli, both from Slovenia.
DAY 3
On Friday (7th July) Sotočje will be coloured by very diverse music. Željko Lednik Zel is returning to Sajeta after a few years with fresh works, made with the help of an analogue electronic instumentarium. A similar musical vision, only with the use of digital instruments will be presented by Petar Mirković aka A//O (Atom/Output), a young Serbian audio artist, who will be appearing at Sajeta for the first time. The Italian duo Orange8 plays a mixture of various genres adorned by a hypnotic female vocal. From the Serbian duo Skier & Yeti we can expect an innovative audio-visual performance as the boys play music, for which the bass player uses a home-made bass guitar made from an old Elan ski and they dress up for the performance as a skier (bassist) and a yeti (drummer). Without a doubt we can expect that the evening will reach perfection with the trio Širom who are influenced by different world stories and upgrade them with their resourcefulness and innovation, creating a completely unique sound.
DAY 4
The Saturday (8th July) at Sajeta will also be quite colourful. The music collective Saeta with Tinkara Kovač as a guest musician will mark their 40th anniversary and we can speak from experience that you're in for a treat. The Slovenian-Dutch team Kukushai is a trio formed by renowned young musicians, who use and mix various music styles and they say that their music really breathes when it's played live, when they follow their inspiration. Hetem is a Belgrade based producer and composer of ambient electronic music and is coming to Sajeta for the first time.
We will also have a chance to hear Electric Indigo, a creator of innovative electronic music from Vienna. She will be performing together with sound researcher Zahra Mani, our friend from last year's Sajeta. This year, Villalog represents the long Sajeta dedication to krautrock. The Vienna trio is influenced by the rich psychedelic music from the early 70s and this will be their first appearance in Slovenia. They are known for their shows where they let their current inspiration guide them and Sotočje is surely a place which can provide the necessary inspiration.
As every year, the music programme will be accompanied by the afternoon and evening music sessions and the results of the music workshops will be heard at the concerts.
WORKSHOPS, ARTS, AND ACTIVITIES
From Monday, the 3rd July, the visitors can join creative workshops; wood sculpting, clay/steel sculpting, creating pots with clay, music, sound, film and dance workshops. There will also be workshops concerned with the use of creative knowledge and relaxation (botanical print, aromatherapy, mushrooms end edible plants, wooden puzzle). Lots of activities for children will also be available: musical, puppeteering, climbing, stone creativity and dance workshops.
On Monday, the 3rd and Tuesday the 4th July the evenings are reserved for screenings. This year we will, with the participation of Nord Cross production, see two LP documentaries: 'Pankrti – Dolgcajt' and 'Buldožer – Pljuni istini u oči'. On Sunday evening, also last year's audio-visual performance 'Javorca – Ressurection' and documentary 'Pokrajine iz spominov' will be screened.
In the scope of the international project 'Echoes from Invisible Landscapes', a symposium will be held at Sajeta on ecology with guests from the Klagenfurt and Ljubljana universities and local eco society and the best photographs from photo contest 'Echoes from Invisible Landscapes' will be put on display. We will also be able to see the results of an in-depth analysis of popular music in ex-Yugoslavia 'Sounds of Attraction' and a public debate about the modern music scene in the region.
Artists Marko A. Kovačič and Miroslav Sretenović – Izvanredni Bob will again take care of the unique visual identity of the venue. Sretenović will also present his inter-media project 'Buffer' on the 9th July.
Link: