Lots has been going on behind the scenes of the WAVES FESTIVAL 2022, taking place in Vienna from September 8th-10th. From pinpointing this year's theme of "East Meets West", to a sharp focus on diversity in collaboration with a Diversity Advisory Board, insights into the conference, as well as the first artist announcements, tenders for applicants, and new venues added – A LOT has been cooking in the Waves kitchen! Read on to whet your appetite and discover what's to come at the 12th edition of Waves!
---
FIRST ACTS ANNOUNCED
The first acts for this year's edition of Waves Festival have been announced! Check em' out!
a/lpaca (IT) Aili (BE) Anna Erhard (CH) Benjamin Amaru (CH) Berglind (AT) Christin Nichols (DE) Doppelfinger (AT) Farce (AT) Finley Quaye (UK) Girli (UK) Jessy Lanza (CA) Low Island (UK) M. Byrd (DE) Motherhood (CA) Naima Bock (UK) Nalan (DE) Nuha Ruby Ra (UK) Oskar Haag (AT) Palffi (AT) Plattenbau (DE) Pyra (TH) Sassy 009 (NO) Skaar (NO) The Hanged Man (SE) The Haunted Youth (BE) Ultraflex (IS) Zack Zack Zack (AT)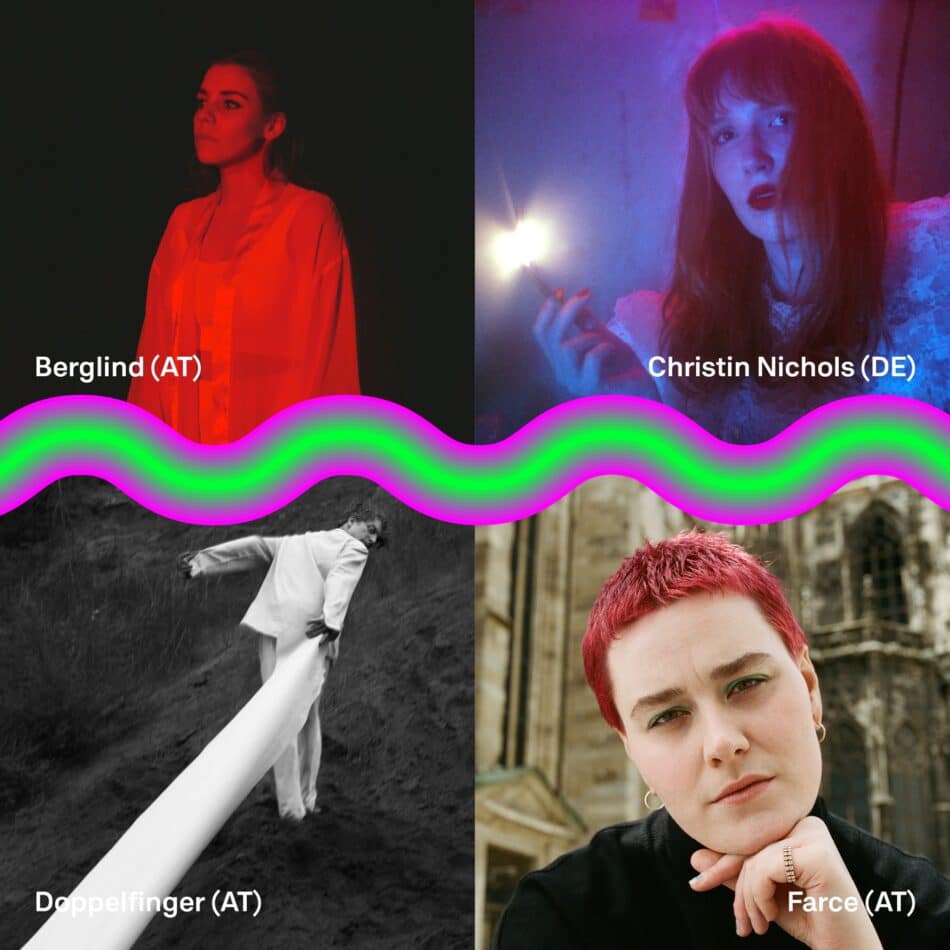 ---
FESTIVAL focus 2022: EAST MEETS WEST & DIVERSITY
Founding idea: "East meets West"
The Waves Festival & Conference will take place for the 12th time in 2022. It sees itself as a festival of discovery and aims to bring exciting musicians and their works from all over the world to the city.
The initial founding idea of the festival was to create a platform or structure under the motto "East meets West", through which initiatives of the music scene from Eastern and Western Europe can exchange ideas.
In Vienna, in the heart of Europe, Waves Vienna positioned itself in 2011 as a networking hub for the music scenes and has been working continuously on building bridges between East and West ever since. The basis for a successful cooperation, in which discussions take place, the respective state of knowledge is examined in workshops and, last but not least, horizons are broadened, has been laid; the establishment of a sustainable future perspective is the goal.
Festival & Conference FOCUS: DIVERSITY
In addition to the orientation as a hub between Eastern and Western Europe, which is deeply inscribed in the DNA of Waves, the festival will also deal with socio-political topics and problems from 2022. Every year, individual aspects or areas from the comprehensive field of diversity, the conscious handling of diversity in society at all levels, will serve as a thematic focus within the festival and the conference. This year we want to deal with Micro Activism as part of the general theme of Diversity.
We understand diversity as an organisational and socio-political concept that propagates an appreciative, conscious and respectful approach to diversity and individuality.
With our focus, we want to contribute to the reduction of discrimination and the promotion of equal opportunities and represent the diversity of people, regardless of age, gender, ethnicity, social background, appearance or sexual orientation, both in the festival and at the conference.
We want to try to recognise people's diverse achievements and experiences and to understand and use them as potential.
In order to be able to comprehend and depict the extensive field of diversity on as many levels as possible, we want to dedicate ourselves to a sub-theme each year that communicates with the overall theme.
Diversity Advisory Board
In order to get the most comprehensive input possible on topics, related aspects, potential cooperation partners and networks for our new general theme "Diversity", an advisory board consisting of 4 people from various fields was appointed to exchange ideas with the festival's implementation team, to sharpen concepts and to reflect on what has already been implemented.
Dalia Ahmed is a music journalist, radio presenter and DJ. She hosts the weekly programme "Dalia's Late Night Lemonade" on Radio FM4 and is part of the FM4 Morning Show team.
Kem is a musician, producer and activist in Vienna. Known as rapper* "KEROSIN95" and drummer* of the band "My Ugly Clementine", Kem has been working in various theatre and music projects since 2015, focusing on a queer-feminist perspective.
Mwita Mataro, is a native of Salzburg with Tanzanian roots. As an art and cultural worker with an international history, he sees it as his task to use art and cultural projects to bring more attention to social issues that gain little or hardly any visibility in the white majority society. He is currently the singer and songwriter of the English-language rock/pop band "At Pavillon" and is working on his first documentary and feature film "Austroschwarz".
Zuzana Ernst is curator of "D/Arts – Project Office for Diversity and Urban Dialogue" and has been part of the artistic management team of Brunnenpassage since 2016. In her work, she combines community-oriented artistic practices with political-participatory cultural work. As a scenographer and founding member of the transdisciplinary performance group tangent. COLLABORATIONS, she has dedicated herself to increasingly collaborative piece development since 2012. She is also a lecturer at the Academy of Fine Arts and was until recently a board member of IG Kultur Wien.
---
This year's conference programme will feature some new formats that call for more personal involvement from delegates and are more tailored to their individual needs. No one should go home without fresh ideas and new contacts.
On the one hand, there is an increased focus on peer-to-peer learning, learning at eye level in exchange with international colleagues. On the other hand, an extended networking programme supports personal participation and getting to know future business partners. As an additional innovation, there will be some "Mental Health" stations.
In terms of content, Canada, one of the top 10 music markets worldwide, will be strongly present as "Guest of Honour". The topic of making the music industry as family-friendly as possible will be taken up again and explored in depth in panels and workshops. Ecological action for music labels is on our agenda, as are technological innovations and new music marketing trends.
---
Guest of Honor 2022 – CANADA
With the new general theme, there will also no longer be two guest countries from 2022, but rather one Guest of Honor, which this year will be Canada with its incredibly diverse and world-renowned music scene.
Canada will be represented as Guest of Honor at Waves Festival 2022 with at least six acts.
The year 2022 was chosen for this collaboration for two reasons: Firstly, this year's festival motto "Diversity" stands for one of the qualities Canada is very proud of; furthermore, the year 2022 marks the 70th anniversary of diplomatic relations between Austria and Canada – a wonderful opportunity to present emerging Canadian artists in Austria at this international showcase festival and to honour the close ties between our two countries accordingly – a bond that manifests itself above all also through shared values: Diversity, human rights, climate protection, the rule of law and multilateralism.
In particular, it is artists, their creativity and activities that inspire and shape our relations. Canada's contribution to the Waves Festival 2022 is part of a series of joint activities in Austria and Canada this year.
---
Venues 2022
Due to renovation and refurbishment work in venues and buildings that have been used for the Waves Festival in recent years, the festival will be split into two festival spots this year.
Besides to the festival headquarters in the WUK, there will be a total of three stages in the hall, the foyer and the Beisl. In addition, the Clash, located just a few metres from the WUK, will be another stage, as well as the Café Weimar with the Palme dance bar and the Grand Café Alsergrund as conference and showcase venues.
Another new festival spot is on the Gürtel, where the Chelsea, the Fania Live and the Weberknecht will each have a stage, and the Loft another two. In the immediate vicinity there will be another information and ticketing centre as well as a separate artist area.
---
WAVES 2022 OPEN CALLS:
Apply To PLAY Waves Festival 2022
Tender: Crossing Boundaries
As of 5 April, the Waves Festival invites submissions for the realisation of interdisciplinary ideas and concepts that will be produced and first performed or presented as part of the festival.
Ideas and concepts for installation, intervention, action, performance, exhibition, film, decoration, an interactive element for the audience or similar, which address and deal with the general theme of the Waves Festival, "Diversity", can be submitted. An independent jury, yet to be appointed, will select three projects to be implemented at the Waves Festival from 8 to 10 September 2022.
The prerequisite is the feasibility of implementation with a maximum budget of EUR 2,000, which will be made available to the entrant in the event of selection by the jury. The implementation must be completed by the time of the Waves Festival or a performance must be feasible during the festival.
The budget must include all funds for the production of the concept. If premises, technology or similar are required for the realisation at the festival, these must be listed in detail in the concept submission and will be included in the jury's evaluation. The deadline for submissions is 31 May 2022.
Tender: On the Premises
On 5 April 2022, a call for proposals will be issued for the implementation of events for the Viennese event scene. Viennese club operators or event organisers can submit concepts for one-day events of any genre with free admission, which take up the general theme of the festival "Diversity" and take place in the second half of August 2022.
An independent jury to be appointed will select 3 concepts, each of which will receive a programming grant of EUR 3,000.
Any additional funding, through grants or sponsorships, is possible. The deadline for submission is 31 May 2022.
---
Waves Festival Ticketing
Get your tickets for Waves Festival & Conference 2022:
Festival Pass EUR 39 (price until 15.05.22)
Conference Pass EUR 38 (price until 15.05.22)
Pro Pass EUR 65 (price until 15.05.22)
LINKS
Austrian Music Export is a proud partner of Waves Vienna.