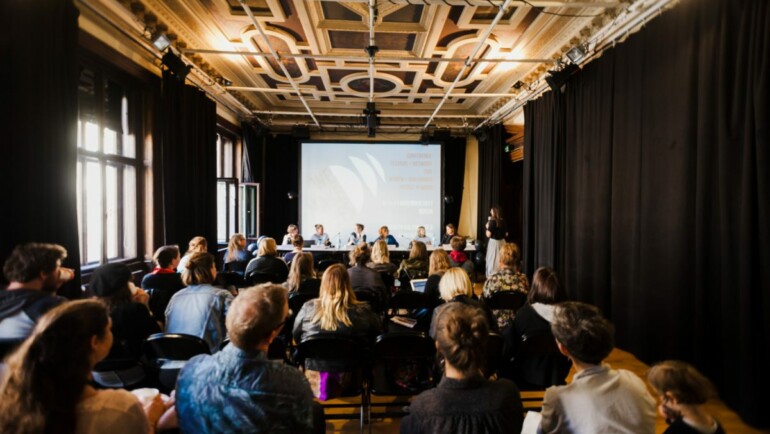 Compatibility of Music and Family Life, Sync Rights and The Importance of Music Blogs as first topics of the Waves Vienna Music Conference – Focus Countries 2018: Portugal and Slovakia
In September 2018 the Waves Vienna Music Conference, organized by Waves Vienna and Austrian Music Export, will take place for the eighth time. Hundreds of national and international music experts, organizers, label owners, bookers, and musicians will meet during the day for discussion and networking at Vienna's WUK. In the evening, they will have the chance to see performances of around 100 new upcoming bands at the Waves Vienna Music Festival.
First topics: Music career and family, monetizing sync rights and music blogs
The conference programme will address current issues in the music industry: How do artists place their music in film, television and video games and what best practices from the field of sync rights exist? How is a career as a musician or a job in the live music industry compatible with family life? What social responsibility does the industry itself bear and to what extent does this influence a decision between career and family? How important are music blogs for young artists´ careers, does radio still play an important role? These and other questions will be answered by international representatives of the music industry in panels, workshops, networking sessions and speed meetings from 27 to 29 September.
For the second time this year, the music export "XA Award" will be presented as a part of Waves Vienna. A panel will use last year´s winner, the Austrian band Cari Cari, as an example to examine the effects of the award.
Portugal and Slovakia as focus countries in 2018
True to the motto "East meets West", the focus this year is once again on two partner countries: Portugal and Slovakia. Portugal in Western Europe shines with numerous well-known summer festivals, globally successful folk music and a strong pop/rock and electronic music scene. In 2017 Portugal, like Austria, could be pleased about being the focus country at the Eurosonic Festival as well as winning the Eurovision Song Contest. Waves Vienna has been working closely with the second host country, Slovakia, for years. In addition to geographical proximity and a diverse musical landscape, whose most exciting representatives can be experienced live in the music programme of the festival, Slovakia also has an interesting live music scene including the Pohoda Festival, which has received several international awards.
Austrian Artists At WAVES VIENNA
Each year, Waves Vienna Music Festival & Conference offers a chance for the Austrian music scene to mix and mingle with music professionals from all over the world. Up-and coming Austrian bands share the stage with internationally acclaimed artists. Let´s reveal a few highlighs by naming Dives, Dramas, Lukas Lauermann, Mile Me Deaf, Mickey, Pressyes or Thirsty Eyes. For the audience, this is also the right time to discover fresh live music in Vienna´s 9th district. Stay surprised!
---
About Waves Vienna 2018: Music Festival and Conference
At the end of September, the Waves Vienna festival will once again make Vienna's ninth district a hotspot for musicians and music fans around the world. About 100 acts will perform in the festival headquarters, the WUK, and in surrounding locations. The showcase festival offers a stage for new international and local artists as well as established groups like The Go Team! (UK) in their genre-rich line-up. More than just a festival, WAVES is a conference and also offers workshops and the Music Hack Day as part of their concept, which is unique in Austria.
Waves Vienna Music Festival & Conference
27.-29.9.2018
Festival Pass: 47 Euro, Conference Pass: 55 Euro, Pro Pass (Festival & Conference): 99 Euro
For further information: Susanna Fellner, Waves Vienna, susanna.fellner@wavesvienna.com, T +43 1 952 27 98-0
Links:
WAVES VIENNA
Photos: http://www.wavesvienna.com/press/
Waves Vienna (Facebook)
Waves Vienna (Twitter)
Waves Vienna (Instagram)