The 2021 edition of KICK JAZZ – the two-day festival organized by Austrian Music Export together with Porgy & Bess – was originally planned to take place live and in-person, bringing together local acts, fans and international promoters. However, as the well-known story goes: it all went online instead. Luckily, Porgy & Bess has created a highly professional streaming system with its, "The show must go on(line)" series over the last two years, so viewers could experience the event at home, (almost) as if they were in the space itself. For anyone who missed it, however, here is a brief recap of what went down on December 6th and 7th on the Porgy stage in Vienna. Moreover, you can watch concert highlights and behind-the-scenes interviews on the Austrian Music Export YouTube channel!
LINEUP: ALEX KRANABETTER "TEXTURES" // RAADIE // KRY
The renowned trumpetist, Alex Kranabetter, known for his role in the band, Month of Sundays, among others, took us on a special journey this evening, into his personal experimental path with his chosen instrument, effects and electronics.
His new solo project, "Textures" explores all the possibilities and potentials carried by the instrument, itself, while expanding them with gentle, minimalistic electronic enhancements and poetic interludes and accents.
RaaDie, the longstanding duo of Christof Dienz and Lorenz Raab, stepped in for a last-minute appearance at Kick Jazz (replacing the duo Hofmaninger Schwarz), and, to the audiences great pleasure, once again delivered a beautiful, momentous, and unique performance.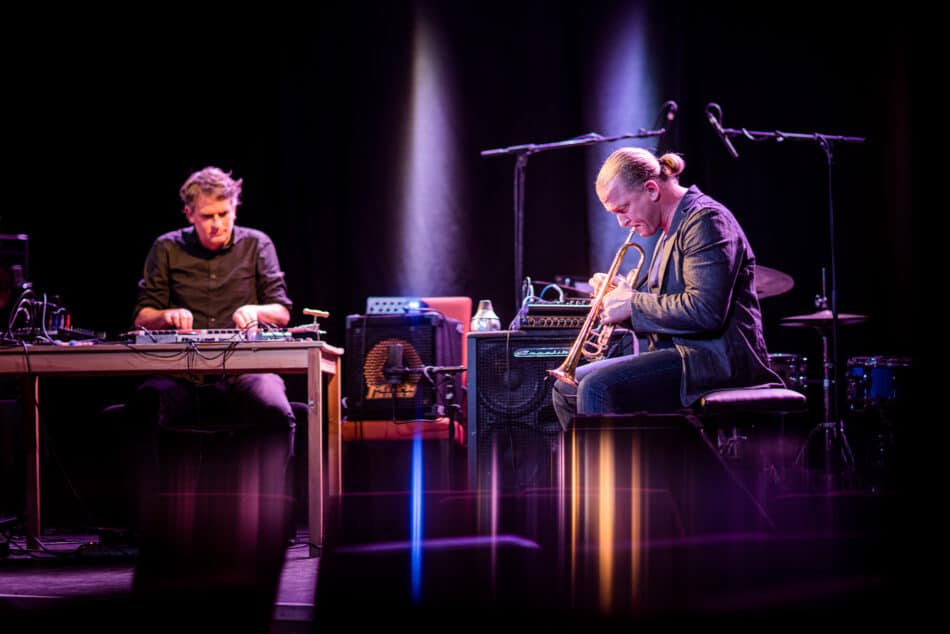 The band known for both its cinematic scope and microscopic details, brought by a highly unusual pairing of electronic zither and trumpet, has a repertoire of timeless material, which you can both get lost in, meditatively, and dance to, at the very same time. Their performance at Kick Jazz lived up to everything they're known for.
The last act of the night was KRY – the new formation made of Mona Matbou Riahi on clarinet/fx, Philipp Kienberger on bass and Alexander Yannilos on drums. This trio proved once again that they are a serious force to be reckoned with.
Shifting fiercely between composition and improvisation, pure sound and loop elements, dance rhythms and free jazz, this band is all over the place, in the best sense of the phrase. What is consistent, is the tangible power and connection of the band. In an interview before the show, they let us know that this project "just worked" from the first instance on – the first session, to be precise. It was clear from the get-go that these three were meant to join forces, and the result is: explosive. If you missed them at Kick Jazz, make sure to check them out the next chance you get. Their not-so-subtly-hinted-at debut album, sitting patiently in some hidden corner, waiting to be released, might even make an appearance if you're lucky.
LINEUP: SINFONIA DE CARNAVAL // MILLYCENT // DSILTON
Living up to their name, the duo Sinfonia de Carnaval took us on a ride through mystic, sensuous and unexpected spaces. Like the cinematic depiction of a lone visitor at the carnival – dipping into this mysterious tent or that corner of curiosities – there was always something new to take in.
The music of Sinfonia de Carnaval is made up of compositions, cello and electronics by Anna Lang and trombone, accordion and electronics by Alois Eberl. The performance brought with it dynamic stylistic shifts throughout – sometimes electronic heavy, others pure and acoustic – but all smooth and organic. This evening, the duo, also a couple, brought us a taste of their new album, "Sweeping Dragon," including a song entitled, "The moon also comes to eat ice cubes," inspired by a sentence spoken by their young son. The concert warmed the soul, on multiple levels.
Millycent had a "wow effect" on everyone who tuned in to day 2 of Kick Jazz. Her remarkably individual approach to music makes any song she touches her own, no matter how famous the tune may be. She is known as the queen of "mumble rap", but not only that, she is also the queen of smooth improvisation, mash-up and, nonetheless, humor. Her borrowing of well-known lyrics, in many ways, makes you actually hear them for the first time. ["All that she wants is another baby, She's gone tomorrow, boy…" Huh?! Was I really singing this at the top of my lungs in my room as an adolescent? Was I paying attention at all? Thanks to Milly, now I am.]
With her reinventions, it's not clear whether she's poking fun at the originals, or paying genuine homage to the musical giants behind them. What's for sure is that following her performance, you want to dig through the archives and listen to them all again, immediately. So indeed it must be affection she is both drawing from, and conjuring up, for all of us. Millycent is utterly refreshing. Her joy and freeness in her music and performance is remarkable, her cheekiness is adorable, and her musicality is fantastic.
The last act of the night rounded out the festival in total. And what a band to do it: Dsilton – a crazy combination of complex tonality and musical ease. This enharmonic microtonal journey is played on special instruments: newly built 31-tone keyboards called Claviton, drum set and a new eight string electric guitar with 31 frets per octave.
Dsilton really goes places no one has gone before – suddenly breaking into twangy western tunes, which just sound a little bit "off" – as they are intended to. Full of self irony, confidence, and incredibly checked out – virtuosic hardly describes these three. Dsilton is a genuinely fresh and unconventional band, with a lot of power to pack, and a lot of places to go. As musician Lukas König watching the stream commented with affection, "It sounds like a band Frank Zappa would love."
---
Arianna Fleur Alfreds