Their respective new albums in tow, A Thousand Fuegos and Mile Me Deaf embark on a 7 nation European tour. Shows are set for Germany, UK, Netherlands, Belgium, Switzerland, Poland, Austria, Czech Rep and Slovakia. In spring A Thousand Fuegos released his landmark synth pop album "The Treachery Of Things" on Seayou & Fettkakao Records while Mile Me Deaf unleashed the rock 'n' roll monster "Eat Skull" via Siluh & Fettkakao Records. Both have been praised by press and fans alike and urged the musicians to cross borders and prove to be just as good on stage as on record.
A Thousand Fuegos
A Thousand Fuegos' electronic style is neither hip nor urban. It is as rural as the place The Treachery Of Things has been written and recorded at: an abandoned house in the picturesque countryside of southern Austria. These three months in reclusion gave the album the feeling of a thought process as the emergence of an idea between churches, forests and shabby floral wallpaper. In this manner, The Treachery Of Things is a concept album. Beats, loops and spacey synths lay the foundation for the lyrical examination of the "Treachery Of Things": the notion that we can never grasp the true identity of the things around us so that we have to set them free. A Thousand Fuegos is a wall of sound experience, not as in 'overwhelming noise' but as in delicately interweaved textures that urge to discover something new with each and every listen.
Listen to A Thousand Fuegos' "The Treachery Of Things":
Stream: full album  |  Video: "The Path"  |  Free download: "No Up No Down"
Check out the new single "The Boundless Building": stream & free download  |  video
Web: blog | facebook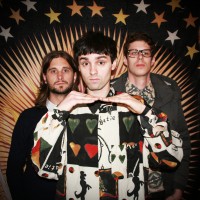 Mile Me Deaf
Mile Me Deaf is first and foremost 27 year old Wolfgang Möstl, living and working in Vienna. Wolfgang is a key figure in Austria's noise pop scene; involved in bands like Killed By 9V Batteries, Sex Jams and Goldsoundz he integrates experimental sounds, homemade instruments, and his love for 90s shoegaze into pop context. He has collaborated with Austrian techno pioneer and Hercules and Love Affair producer Patrick Pulsinger, as well as Dutch luthier Yuri Landmann, who has designed unique guitars for Sonic Youth, Blood Red Shoes and Liars. Always driven by a strong DIY approach, Wolfgang Möstl runs his own music label, Numavi Records, offering a platform to musical experiments, temporary side-projects and friends in artistic crime. In addition he has created much of the artwork for his projects and videos, and lately has become a demanded producer within the local indie and noise scene. Alongside his intense involvement in various bands and artistic projects, Wolfgang kept writing songs on his own and filed them under "Mile Me Deaf " on his desktop computer.  Within 9 years, about 500 partially recorded songs piled up there, and were infrequently made available on CD-Rs, cassettes, and even floppy discs at live shows. Only in 2010 did the first official 7-inch release as Mile Me Deaf see the light of day on the charming arts and music label Fettkakao, making Mile Me Deaf a "serious" and full grown band. Backed up by two members of befriended band Sex Jams, the first offical album "Eat Skull" was recorded with all brand new songs – no dated archived material – now released jointly via Siluh Records and Fettkakao June 1st, 2012. 
Listen to Mile Me Deaf's "Eat Skull":
Stream: full album
Videos: "Wild At Heart" (Johannes Staudenbauer & Horst Bilek)  | "Troubles Caught" (directed by Johannes Staudenbauer)
Web: homepage | facebook
Upcoming Tour Dates:
25 Oct SVK     Bratislava, Klub Obluda
26 Oct AUT     Innsbruck, PMK
27 Oct GER    Dresden, Fortschritt
29 Oct POL     Poznan, Klub Fabrika
30 Oct GER    Berlin, Noisekölln
31 Oct GER    Karlsruhe, Alte Hackerei
01 Nov GER   Dornstadt, Tanke
03 Nov NED   Groningen, Lepel
04 Nov UK      London, Old Blue Last
06 Nov GER   Mainz, Kulturclub schon schön
07 Nov SUI     Zürich, Mi-Sous Leau, Dynamo
08 Nov SUI     Winterthur, Alabani
09 Nov SUI     Düdingen, Bad Bonn
10 Nov AUT    Villach, Kulturhofkeller
[Press Release – Seayou Records/Siluh Records]