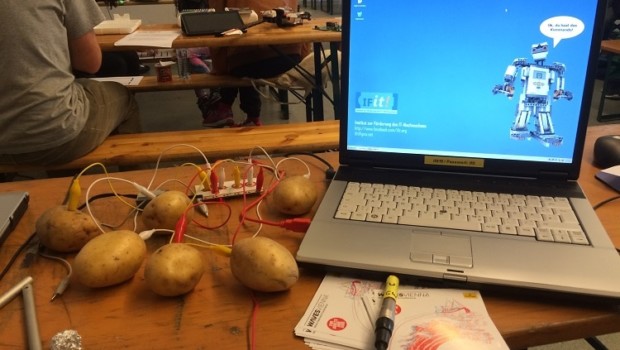 Whether you are a musician, developer, hacker, artist, thinker, designer or hobbyist – join the Waves Vienna Music Hackday, meet other creative people and spin your ideas around the future of music & technology!
The Waves Vienna Music Hackday took place for the first time in 2015 and was a full success. The 2nd Hackday is taking place Sept 30-Oct 1 at the festival center WUK in Vienna. The spirit of the Waves Music Hackday is to get your heads together in teams to create new ideas – and build them on the same day.
What you create is up to you – anything goes, as long as it is related to music:
hack new music apps,
create a new musical instrument,
make a platform to engage artists and audience,
work on a musical performance,
make wearable audible fashion,
or anything else musical that comes to your mind!
You may find some inspirations from last year's hacks here and here. This hackday is part of the Waves Vienna Festival, a 3-day festival showcasing emerging European acts with about 15,000 attendees each year. The festival takes place at the wonderful WUK Vienna and also includes a conference and music industry networking sessions. This year, Waves Vienna will again welcome two countries as special guests: Germany and Israel. True to the motto "East Meets West", there will be a focus on acts from these countries in the live programme. The Waves Vienna Music Conference will furthermore devote a part of its programme to the respective music markets and scenes of these countries.
– Waves Festival: Sep 29 – Oct 1, 2016
– Waves Hackday: Sep 30 (Tool Presentations) and Oct 1 (Hacking)
Find out more and register at: www.wavescentraleurope.com/waves-music-hackday The hackday is free, but space is limited – please register as soon as possible!