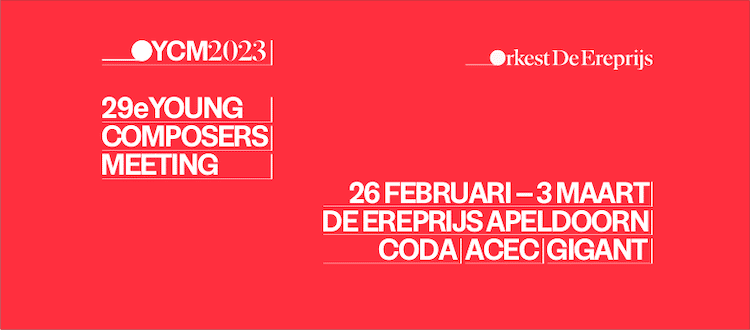 YOUNG COMPOSERS MEETING is an initiative by Orkest De Ereprijs to give young professional composers under 30 a chance to compose for an ensemble and develop their talents, knowledge and professional network. Deadline to apply is Sep. 9th, 2022.
During this week, 14 selected participants rehearse the pieces they have submitted. They are accompanied by experienced composers and attend lectures and individual lessons. The intensive week will be concluded with a concert. The most promising participants, in the opinion of an independent jury of leading composers, will be awarded a paid composition commission as an incentive. All compositions are performed by Orkest De Ereprijs and singers from the Royal Conservatory of The Hague, led by Gregory Charette, during the Final Concert on Friday March 3, 2023 in the Gigant theater, Apeldoorn.
The next YCM will be in the week of February 26 until March 3, 2023. Apply now for the 29th edition! Interested? You can apply between June 1, 2022 and September 9th, 2022. Make sure your application contains the following:
A completed application form
A CV/ short biography
Score and audio fragment from a recent work
Please send the required materials via a wetransfer link to youngcomposers@ereprijs.nl. The participation fee is €450, which includes hotel stay, meals, individual lessons, lectures and more. The selected composers will be contacted at the end of September!
Commissions:
Frank van der Wal Fonds-commission: a new work for Orkest De Ereprijs, to be performed during their many concerts. Fee: € 2,500
Orkest De Ereprijs commission: a new work for Orkest De Ereprijs, to be performed during their many concerts. Fee: € 2,500
RKST21 commission: a new work for RKST21, to be performed during Andriessen Festival 2023. Fee: € 1,500