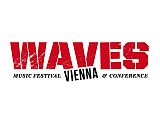 "The first edition of WAVES VIENNA was a pertinent reminder that there is a music industry in central and eastern Europe which rarely gets talked about. The entire region needs a professionally organized music conference and festival, and a platform where local musicians can showcase their talent. WAVES VIENNA clearly fulfills this mandate, and I very much look forward to returning to next year's event." Mirko Whitfield (SXSW, Austin, Texas, US)
Since Sunday, the first edition of the club and showcase festival WAVES VIENNA lies in the past. As organizers, we can draw a positive conclusion despite a number of unexpected problems and cancellations at short notice: more than 8,000 people celebrated with us during the four days of the festival. And especially on Friday and Saturday a special festival flair was in the air – with full venues (from Flex to Pratersauna) and a lively hustle and bustle of the audience between the festival axes Donaukanal and Prater.
It was apparent that Vienna has everything it needs for a festival city of international quality: a geographic key position, unique venues, an open-minded, enthusiastic audience and, last but not least – as the capital of the country – a convincing local music scene. An assessment which was confirmed by the feedback of delegates, the media, artists, and the audience.
The organizers learned a lot for the second edition of WAVES VIENNA at this years edition. For instance, that it needs minor adjustments in various areas. But also that the core elements of the festival from the showcase charakter to the conference and the inclusion of off-locations was received really positively. Insights on which we can build for Waves Vienna 2012.
Feedback:
"Thanks Waves Vienna! Great 1st edition"
Marije Brouwer (Eurosonic Booking, Groningen, NL)
"Anyone who thinks that Austria's capital isn't a rock 'n' roll town should visit Waves next year. Venues on boats with a great view of the cutting-edge new Vienna skyline, impressive local talent that none of us foreigners previously knew anything about, plus a well-crafted bill of big names and newcomers from as far afield as Montreal, Bratislava and Brighton. Great city. Great festival."
Si Hawkins (Clash Magazine, London, GB)

"I honestly believe you put the base for a great festival with a firm date in the european conference and festival calendar."
Jaro Slavik (Ministry of Culture of the Slovak Republik, Bratislava, SK)
"This puts Vienna on the international music map. It's great and worth to come."
Maarten Decock (Glimps Festival, Ghent, BE)
"Waves Vienna was a real success. Everybody I talked to told me the same. Congratulations!"
Jean-Marc Leclerc (European Music Office, Brussels, BE)

"Both the conference and the night program were inspiring!"
Rastko Andrić (Exit Festival, Novi Sad, RS)
"Waves fest is one of the most passionate and sincere events I have been to, and they did a great job especially given it was their first year."
Brian Heatherman (Canadian Music Week, Toronto, CA)
"I had a great time in Vienna – I really enjoyed the festival and I hope to come back there next year."
Adam Rasek (Tauron Festival, Katowice, PL)