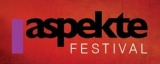 For the 32nd time, the ASPEKTE Festival in Salzburg offers encounters with different temperaments and expressions of contemporary music.  As usual, the program sets the spotlight on young composers, mainly from Austria. This year's focal points are works by the composer in residence Sofia Gubaidulina, who will attend the festival in person. Altogether the festival will present 16 world premieres – a new piece by the composer Friedrich Cerha, as well as by Michael Mautner, Gerhard Wimberger, Eva Reiter, Thomas Heinisch, Alexandra Karastoyanova-Hermentin, Andor Losonczy , Johannes Kretz, Gerald Resch and Georg Friedrich Haas.
Initially the ASPEKTE Festival in Salzburg was founded in 1977 by the composer Klaus Ager and has ever since taken place once a year in the Springtime in Salzburg. In over 30 years of the festival's existence, numerous internationally recognized works of important composers of the 20th century were premiered in Salzburg. Acclaimed successes include the visits of John Cage (1991), Mauricio Kagel (1989 and 1998), Iannis Xenakis (1982), Alexander Knaifel (1983), Brian Ferneyhough (1996), Giya Kancheli (2000).
2006 Klaus Ager handed the position of artistic director to Ludwig Nussbichler, who has been directing the festival ever since.
Concert 1:
26th May / 19:30 / Müllnerkirch
Sonnengesang
Concert 2:
27th May / 18:00 / ARGEkultur Salzburg
La Follia
Concert 3:
27th May / 20:00 / ARGEkultur
Aura
Concert 4:
28th May / 18:00 / ARGEkultur
Sand auf meinen Schuhn
Concert 5:
28th May / 20:00 / ARGEkultur
Gegensätze (Opposites)
Concert 6:
29th May / 10:00 / Stiftung Mozarteum, Large Hall
Spielräume 2010,  Das Orakel Des Apollon (The Oracle Of Apollo)
Concert 7:
29th May / 19:00 / Stiftung Mozarteum, Large Hall
Hannes Eichmann: Interview with Sofia Gubaidulina
29th May / 20:00 / Stiftung Mozarteum, Large Hall
…im Labyrinth (…In the labyrinth)