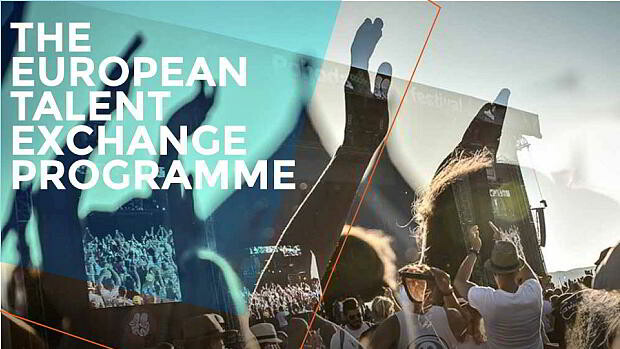 ETEP moves Europe: The European Talent Exchange Programme (ETEP) is looking back at 4.001 ETEP shows in 2018. Austrian duo CARI CARI is listed among the top 10 artists booked and Waves Vienna hit number 4 of the top festivals with the most ETEP acts. ETEP 2019 wants to offer even more possibilities for emerging European artists.
With 483 shows by 161 acts at 122 festivals, the European Talent Exchange Programme (ETEP)  has generated a record number of bookings for the fourth consecutive year. Top acts included Superorganism, Zeal&Ardor, Altin Gün, Sigrid and Tamino. With 19 festival shows, this year's highest scorer Superorganism managed to break the record number of shows that was previously held by SHAME last year. Eight new festivals, including Chinese event Clockenflap and Stereoleto in Russia will join the talent exchange programme in 2019, meaning that ETEP has expanded its geographical range even further.
ETEP 2018: Artist top 10
(Most booked ETEP acts by country)
Superorganism (GB) – 19
Zeal & Ardor (CH) – 13
Altin Gün (NL) – 10
Sigrid (NO) – 10
Tamino (BE) – 10
Cari Cari (AT) – 8
Tshegue (FR) – 8
Alma (FI) –
Dermot Kennedy (IE) – 7
 Alice Merton (DE) – 6
ETEP 2018: Festival top 10
(Festivals with the most ETEP acts)
Reeperbahn – 33 acts
 The Great Escape – 29 acts
Iceland Airwaves – 16 acts
Waves Vienna – 15 acts
Roskilde festival – 13 acts
Lowlands Festival – 11 acts
Rock Werchter – 11 acts
Tallinn Music Week – 11 acts
By:Larm – 10 acts
Haldern Pop – 9 acts
Want to see a full overview of all ETEP acts and where they are performing? View all ETEP results here!
ETEP 2019: even more possibilities!
We proudly welcome Clockenflap (cn), Kendal Calling (gb), Mad Cool festival (es), Rolling Stone Park (de), Stereoleto (ru), Truck Festival (gb), Wacken Open Air (de) Y Not Festival (gb) to ETEP in 2019, bringing us to a total of 128 ETEP festivals. Furthermore, we'd like to welcome our new partners: Czech Music Office, LaLa Slovak Music Export and Italia Music Export to the platform. By bringing them in to the ETEP family, ETEP further strengthens the opportunities for emerging European artists both inside and outside Europe.
Looking back at 4.001 ETEP shows
Since the start of the programme in 2003 ETEP has facilitated 4.001 shows by 1.445 acts in 34 countries, and we are very proud to have contributed to the careers of so many talented European acts. Many acts that received support from ETEP at the start of their careers have grown out to be very successful. Over the past 17 years, acts such as Agnes Obel, Ásgeir, Ben Howard, Benjamin Clementine, Calvin Harris, Franz Ferdinand, James Blake, MØ, Noisia, Selah Sue, The Editors, The Kooks, The XX, Within Temptation and Years & Years have greatly benefited from the support of the ETEP programme.
More recently, acts such as Idles, Shame, Alma, Aurora and Dua Lipa played some of their first international shows with the support of the European Talent Exchange Programme. We are looking forward to seeing what the future brings, but one thing is set in stone: ETEP will continue to grow and offer even more artist great opportunities!
https://youtu.be/onel1hPj-T4
About ETEP
The European Talent Exchange Programme (ETEP) was introduced in 2003 to stimulate the exchange of European artists across Europe. An initiative of ESNS, ETEP facilitates the bookings of European acts on European & international festivals outside their home countries and generates extensive media exposure for these artists in cooperation with the European Broadcasting Union (EBU) public radio stations, the European export offices and national and international media. This way, ETEP aims to give a boost to the international careers of European artists and highlights the participating ETEP festivals.
Super excited to have had the chance to perform so many great festivals for Tshegue's first tour! Can't wait to keep on playing new festivals and great scenes! – Dakou, Tshegue's co-founder, drummer and producer
---
Links:
ETEP 
Waves Vienna