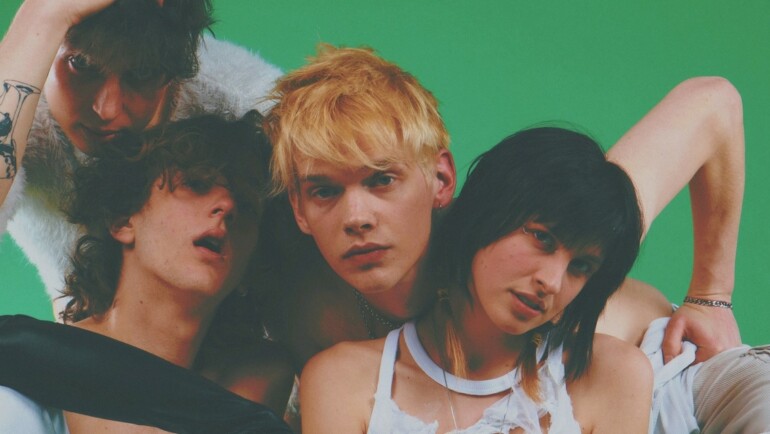 Four dark-sparkling, loudly screaming underground stars from Vienna found their own genre with their debut album "Krach": The Leftovers' mixture of punk and rebellious poetry veers into the lane of Viennese tradition. They are the FM4 Soundpark Act in November.
---
Is this the next Austrian contribution to the Eurovision Songcontest? The band that saves the up-and-coming Viennese punk scene? The pure musical embodiment of the "Waste Your Youth" attitude inherent in the early twenties generation due to their crisis-ridden adolescence?
No matter which of these questions one would like to answer with an enthusiastic "YES!", or whether one finds that these associations are a bit too much – one thing is certain: with their debut, the Viennese punk band Leftovers have created something currently unique for Austria.
A fierce, loud confrontation
"Krach," the apt title of Leonid, Anna, Leon and Alex's first record, is, by dictionary definition, "something that can be heard in an unpleasantly loud, inarticulate way, very loud, unpleasant noise" or it arises "from a violent, loud confrontation."
"With us, it's more the latter," the Leftovers tell FM4 in an interview. "Eons ago we once got a noise disturbance report because of 'loud drumming and rock music' during a rehearsal," Anna says. "So to outsiders, what we do might sound like noise in a negative sense – but it doesn't have to be that way."
"It's the feeling of desperation that we work into the lyrics and into the music. And we throw that together, in a pile, and call it noise," Leonid says. "The basic need to rebel is definitely there and it's good to rebel, but at some point you feel like you're up against a wall. And that you always lose, no matter how long you rebel," Leon tells us.
This feeling, which is difficult to describe – most likely a mixture of drive, anger, loneliness, resignation, neglect and despair – is packed into poetry-inspired lyrics and transformed into punk music by the Leftovers. However, this band does not swim along on the currently resurgent wave of pop-punk, but feels more comfortable in niche realms.
Nirvana or the Pixies are probably the best known audible influences, inspiration comes from bands like Pisse, The Garden or, Alex's favorite punk band, the Subhumans. Pop cultural icons like Falco, Die Ärzte, Nina Hagen or Tokio Hotel also shape the Leftovers' music, lyrics, but most of all their aesthetics and attitude.
KRACH [Noise], Viennese School, loud
Their language, in places reminiscent of Tocotronic, Blumfeld, Isolation Berlin or other originals and later affiliates of the Hamburg School, is turned into something completely unique by the uncompromisingly angry cybergrunge sound, which sounds miles away from it. "We didn't know these bands at all," say the Leftovers. "Hamburg School, never heard of it – but maybe we just invented our own genre. We do Viennese school."
How convenient that this is the title of the first song on the record: "Was ist geblieben, von der Schule?" ("What's left of school?") is the crucial question that introduces the overwhelming wall of noise that shreds your ears, brain and heart. When asked how the Leftovers would describe their music in three words, they proudly reply, ""Noise, Viennese School, Loud."" That really says it all, doesn't it?
Won't you sing me lovesongs?
It's that youth-inspired rage and desperation that resonates in each of the sounds that become noise together, making the Leftovers' work already zeitgeisty and valuable. At their release concert on October 30 at Vienna's Fluc, it's palpable how great it feels, the shouting out and jumping along. With a few exceptions of proud parents, there are almost only teens and tweens in the audience, who sympathize with every fiber of their heart and are grateful that there is this band that understands them and through which they no longer feel quite so alone.
"The thing I like about music is that you can listen to it to reinforce a certain feeling," Leonid says. "And that's what we're trying to do." Anxiety about the future, anger at the society that makes you feel forgotten, part of the "Lost Generation" for which so much seems irrelevant: "because every time we look in the newspaper we know that the future is just fucked."
Thus, behind the romantic love songs and lyrical ornate figures of speech often hide critical self-reflections or simply the pure, confused inner life turned outward, which finds surprisingly clear words.
The fact that in their still young band history, the Leftovers have most recently turned from English-language songs to the German language is also exciting. On the debut album, there are tracks like "Blumen" or also "Plastik Liebe", in which both languages are ingeniously mixed. "That comes from the fact that the songs were first in English and then we translated them only partially," says the band, who usually works on the songs as a foursome and makes artistic decisions as a collective.
An end to calm and contemplation
So, are the Leftovers now the best Austrian answer to the international music market, where a band like Måneskin could win the ESC? A band to which, by the way, not only optical parallels can be drawn. In any case, this sharp-edged band is a courageous sign and good news for a musical landscape that is becoming increasingly slippery. Noise irritates, but does not always have to be something negative, disturbing.
In this case it is something awakening, something deeply emotional and captivating, which leaves you with the feeling that you are not alone with your inner despair. So, if anyone is still looking for the perfect melancholic angry November soundtrack that will pull you even more into the winter depression but at the same time give you at least as much energy, that's exactly what you'll find in the Leftovers' debut. An end to calmness, dreariness, and contemplation. The noise season has officially begun.
Alica Ouschan
Translated from the German original by Itta Francesca Ivellio-Vellin.