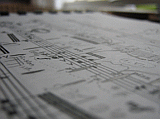 Miniatures are not a registered form of art  for the music of an orchestra: Too many musicians, too much conductor, soloist, organizational apparatus, perhaps also too much expectation of the concert audience for just 40 or 60 or 80 seconds of music. To imagine miniatures from composers, who deal with this apparatus, this collective instrument, is like expecting aphorisms from novelists. But the one minute of Friedrich Cerha, Olga Neuwirth, Hermann Nitsch, and many others is not merely a short minute of music from these figures, but can be experienced as a concentrate of the artistic intention of composing,  almost like a life's work condensed into an acoustic hallmark, and created, as the Anglo-Americans would say, in a nutshell.
On the occasion of an anniversary, the Vienna Radio Symphony Orchestra asked composers in and from Austria for one miniature. To be more specific, it was different: we dared to ask these composers for (about) 40 seconds for the  40th Birthday, as a gift, and were happy and surprised at how many composers  took part. Over the anniversary season 09/10, the RSO produced 102 orchestral miniatures, from A to Z, from Ablinger to Zabelka, all of them written, selected, re or deconstructed orchestral miniatures for the occasion, the temporally small for the instrumental large, aphorisms for an orchestra, a mosaic of Austrian voices and tones and sound structures, a panopticon – this was by the way something like the secret command name of this endeavor  during these months – of sparkling and shimmering sound components, a panopticon in the old sense of the word, that is a collection of strange but remarkable little novelties, each a completed mini-universe for itself, a cosmos of planets orbiting around each other as a whole.
As in a Renaissance chamber of wonders with its objects cut from rock crystal, and thus the shapes and colors brushed against the grain of the alleged nature, this work collection of refined virtuosic interaction combines about two hundred years of traditional orchestral sound, with works by artists who confront the tradition and contrast its orchestra with the unusual and with lateral thinking. For the Vienna Radio Symphony Orchestra, this production was and is a new beginning and a sign in the direction of a contemporary understanding of art, which is obliged to the orchestra's tradition, as well as participating in the opening of supposed boundaries.
Being able to produce and recorde this "panopticon", these curiosities of Austrian sophistication as well as of the spirit of resistance, was a special honor for the Vienna Radio Symphony Orchestra and being given this possibility, we as the orchestra want to whole-heartedly thank all composers who have so generously participated in this project. Viribus unitis ad futurum!
Christian Scheib
translated from the German by Doris Miyung Brady
http://rso.orf.at/