Almost three years after the release of his highly acclaimed debut album "On The Run", RENÉ MÜHLBERGER aka PRESSYES is back with a new video. Clemens Engert spoke with the musician and producer about oriental influences, the recording process of the new album and why feedback can sometimes be confusing.
The video for your new single "LUS U" definitely exudes a certain vintage charm. Can you briefly tell us how it came about?
René Mühlberger: Marlene Lacherstorfer and I shot the video ourselves. I rediscovered my love for old, analog film cameras during the first Lockdown dreariness. We ended up filming with a 16mm camera from the 70's. We flew to Malta for a few days with seven Kodak films and some PCR tests in our luggage. That was a tricky undertaking, since we had no experience with analog film and there's always the risk that such an old camera won't work properly. After that, we had to go into quarantine and wait three weeks for the film to develop. But it paid off. We were very happy when we saw that everything was well exposed and usable. Of course, we would have preferred to shoot here in Vienna due to the complicated travel regulations; but the camera just needs an insane amount of light, and the sun was practically invisible in Vienna at the time. The whole thing wasn't easy, but as an artist, you sometimes have to go beyond your limits.
The song has oriental reminiscences. Where does this influence come from?
René Mühlberger: I'm basically always looking for new kinds of sounds. "LUS U" is probably influenced by my trips to Morocco or Asia. These trips are now a while back, but the impressions from them always stay very long in me. I have a great preference for everything that sounds oriental – be it Afro-Beat or Turkish psychedelic pop from the 70's. "LUS U" means, for me, to regain a piece of freedom. For me, music is at its best when it makes me dance, so I intentionally left the track relatively "rough" in terms of sound and didn't produce it to death. The intro is, so to speak, a homage to my chosen district Ottakring: extra loud cars with extra loud music from too-young drivers at a too-late hour. I simply love this liveliness and it is closer to me than the so-called "Viennese Grant".
You are in the middle of the recording process of the new album. On your first album "On The Run" you recorded and produced most of it yourself. What's your approach now?
René Mühlberger: This time I did even more on my own and really recorded and mixed everything myself. I always want to record with other people, but by the time it comes to an appointment, I have usually already recorded a large part myself. It's a very intuitive and creative process. If it's just flowing, I don't want to interrupt it. "Go with the flow" so to speak!
Do you get feedback from other people from time to time during the production process?
René Mühlberger: Feedback often confuses me and sometimes takes me away from my intuition. That's why I only ask for it very rarely anymore – or only from good friends where I know exactly how to interpret it. As a producer, I've also become more cautious with feedback and don't throw around big comparisons right away. As a solo artist, my mission towards the end of the process is usually not to lose the song "emotionally". Sometimes that's not so easy, because when you record all the instruments yourself and also edit and mix everything, it often gets a bit technical. So I first had to learn to be able to switch perspectives – from emotional singer to independent mixing engineer.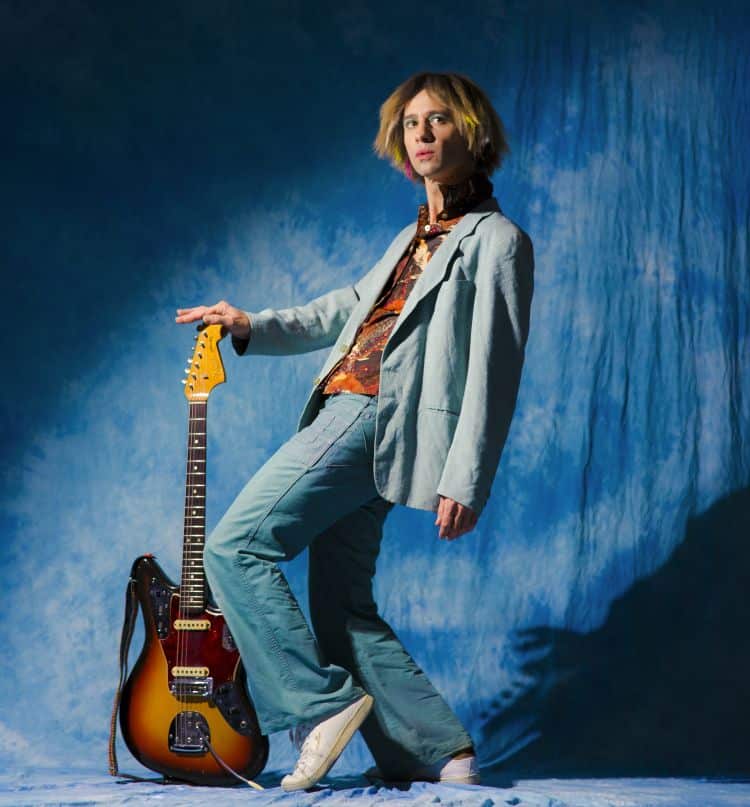 Are there moments during a production when you are in doubt or even despair?
René Mühlberger: Basically, the moments of happiness predominate of course, but, there are also days when you can't find any feeling for a song and doubt everything about it, or find it bad. In the meantime, however, I have understood that this says more about my emotional state than about the music. Then I know that it's probably better to do a meditation than to spend hours on a song. The best thing about being a musician for me is that it encompasses so many fields. I can be a video producer, a graphic designer or even an advertising man – although the latter is not my thing (laughs). It's also important for me to be able to "zoom out" from time to time, to be able to see the big picture clearly again, and not just get stuck on one detail. For this very reason, a certain amount of variety is extremely welcome. In my new studio I sometimes produce other bands. That also helps me a lot to be able to see things more clearly again. Sometimes I wish I could just work off a to-do list. But unfortunately it doesn't work that way for me. A song is only ever finished when I feel this very specific feeling. It's a feeling that's hard to describe – a bit like eating ice cream and chilling on a sun bed. As long as that feeling keeps coming back, I don't think I'll be able to stop. I'm sure it's also a kind of addiction.
"FEEDBACK OFTEN CONFUSES ME AND SOMETIMES TENDS TO TAKE ME AWAY FROM MY INTUITION."
What especially inspired you for this album?
René Mühlberger: I wrote some of the songs when we were on tour with PRESSYES in France. We played three big festivals there, for example, and I felt insanely understood there – that inspires me. There are places where the vibe just fits my music. France and Spain are such countries for me.
Were there also new musical influences compared to the last album?
René Mühlberger: My favorite bands change all the time – but my great love for Tame Impala should be well known by now. It seems like Kevin Parker and I have the same taste. I even use similar instruments – although much longer than him (laughs). I bought the 1968 Ludwig drum set that I use on every production 20 years ago in Italy. It was also used in the "Velojet" video for "I Follow My Heart" in 2007 and also for "Nahuel Huapi" by Bilderbuch. Other than that, I listen to a lot of Khruangbin, Tyler The Creator, The Avalanches and anything else that exudes a chill summer vibe. My hip-hop phase has been over for a while now, but I think there's a lot of interesting funky stuff coming out of Los Angeles right now like Thundercat or Anderson Paak.
Thanks a lot for the interview!
Clemens Engert
---