For seven years now, the UNSAFE+SOUNDS FESTIVAL has been presenting trend-setting musical positions of a contemporary culture that resists the prescriptions of the mainstream, and critically and reflectively depicts the reality that surrounds us, sometimes with radical results. What unites the participating musicians are experimental, emancipatory, or subversive approaches that form an aesthetic correspondence to our time. Together they represent a fragmented global avant-garde. Different approaches want to be brought together in order to open up alternative perspectives and provide a view of the newly opened musical territories. This year's edition will take place on August 18 and 19, as well as on August 27 and 28 at the Wotruba Church and Das Werk in Vienna.
2021 Edition – "Touch"
The pandemic has provoked a shake-up in the economic, geopolitical and psychological fabric. Over the past year, we have all decelerated, remained calm, been trapped with ourselves, claustrophobic perhaps. In this situation of collective vulnerability and shared exhaustion, where strict measures regulate our communal behavior, we want to refocus on our togetherness. For this year's edition, we want to focus on the relationship of touch, sonic experience, and community. Sound is not an intangible phenomenon. It breaks up bodies and transforms them into fields of intensities. Sound has a direct, physical impact and connects with our tactile and haptic senses. Sound sets our bodies in vibration, surrounds and penetrates us, binds bodies together, sets them in motion and transforms them into a vibrational field of volume and frequencies. In the chaos of the now, we want to focus on those sometimes fleeting, sonic communities.
Genre crossings between spherical techno, spectral synths and musique concrète
On the first two days of the festival, the Wotruba Church and the park surrounding it will form the backdrop for genre boundary breaking. The spectrum ranges from techno to musique concrète, from weird synth-pop songs to minimal synth, from ambient to modern composition.
Swedish musician Anthony Linell, head of the influential Northern Electronics label, produces elegant, minimalist ambient synth tracks as well as pulsating techno. In his spherical live sets, he exposes the similarities between the two genres. Ventil Records label owner Ursula Winterauer aka Gischt moves similarly fluently between the languages. In her suspenseful, cinematic numbers, analog bass and electromagnetic sensors are used just as much as synths and drum machines. The result is an amalgam of dark ambient, industrial techno and electro-acoustic. In recent years, British musician Lucy Railton has established herself as one of the most important cellists at the interface of electronic and acoustic music through numerous collaborations. Situated between modern composition, musique concréte and experimental electronics, Railton sketches ephemeral narratives that penetrate intimate spheres. Vienna-based musician and composer Simone Borghi is one of the festival's new discoveries. Borghi filters sparkling spectral sound sequences and cosmic drones from his Juno synth. Earlier in the evening, musician and artist Robert Schwarz will Dj and Push Network co-founder, Caniche will mix ambient tracks as Sensitive Blob.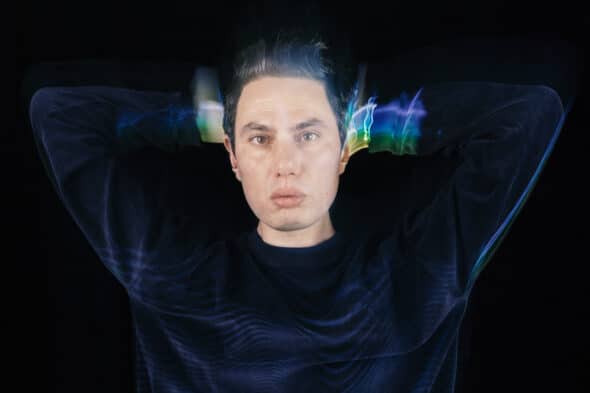 Past loops and ambient noise
On Thursday there will also be songs to listen to with Conny Frischauf and Bobby Would. Artist and musician Bobby Would constructs his numbers from looped 50s/60s songs that he overdubs. Here world-weariness, timeless nostalgia and stubborn romanticism come together in a "wistful waltztime psychobeat". Also active as an artist is musician Conny Frischauf, whose songs dock on Krautrock, synth-pop and the Leftfield sound spectrum. Her numbers are playful with language and have a charming idiosyncrasy. The program is complemented by the musicians Paul Ebhart, Leonard Prochaska, Christopher Schulz and Simon Heidemann, who are known from different projects. As the improvisation formation Gross Module, they combine trumpet and drums with synth signals and electric guitars. Finally, the evening's international guest is Nairobi-born, Berlin-based Joseph Kamaru aka KMRU. His pieces are based on ambient scapes – endless loops and multi-layered sonic textures that resemble fading memories and have a defining delicacy – a hypnotic, imaginative, immersive experience. With local Djs Misonica, and Mariah Doesn't Carey, the music program is suitably rounded out.
Club culture relived
The second weekend takes place in and in front of the Viennese club Das Werk. Friday evening the festival starts open air and with free admission with the Vienna-based Italian sound artist Isabella Forciniti, who explores the Buchla modular synthesizer in her mysterious pieces, moving in the field of tension between sound analysis and improvised music. PLF, the trio around drummer Lukas König, electronic musician Peter Kutin and vocalist Freya Edmondes, also move between composition and spontaneous improvisation. Also known as Elvin Brandhi, Edmondes screams, shrieks or recites, manipulating her voice beyond recognition, while König and Kutin, accompanied by flickering light, extract the most stubborn sounds from their instruments. The result is tamed chaos, constant tension, situated between noise and conceptual art. Their debut release will be out this fall on Opal Tapes. The indoor program starts with GMNR, behind which is Michael Lahner, a musician known from formations like Wealth and Ventil. With GMNR he moves between techno, minimal and experimental electronics. The Finnish musician Sansibar is considered one of the most incisive voices of the freshly burgeoning electro scene. Dynamic basses, cosmic synths, and concise vocals blend into no-frills tracks that are as uplifting and kinky as they are mysterious, taking cues from the early sound of Detroit. After a dj set by Visitor, the techno alias of musician and artist Stefan Juster known as Jung An Tagen, Dj Gusch will get the vibe going with his accelerated acid techno. This will be followed by a Dj line up dedicated to the harder, faster varieties of techno with Schirin and Bushra. Ecstatic moments are pre-programmed.
The open air evening on Saturday already starts in the afternoon with a dj set by the musician and artist Yuzu from Sofia. Afterwards, Dino Spiluttini will present light-hearted to transcendental sounds. The hyperreal sound aesthetic of the Viennese musician is fed by subtle synth sounds, glassy preset samples and scattered vocoder vocals. Musician and composer Markus Steinkellner, who also lashes out musically in formations like Mermaid & Seafruit, conjures up dystopian scenarios between metal, post-club and broken beats as Idklang. The Danish industrial musician Puce Mary is also on a confrontational course. Frederikke Hoffmeier is considered one of the protagonists of the post-industrial scene. She draws on elements of power electronics, spoken word and harsh noise to combine them into abysmal numbers. And there will also be a solo concert by local enfant terrible Philipp Quehenberger. You can expect a border crossing between downtempo acid and free keyboard improvisation.
---
Program
18.9. "Unfolding" – Wotruba Church open air / inside
LIVE: Anthony Linell, Lucy Railton, Gischt, Simone Borghi
DJ-SET: Robert Schwarz, Caniche as Sensitive Blob
19.9. "Continuum" – Wotruba Church open air / inside
LIVE: KMRU, Bobby Would, Conny Frischauf, Gross Module
DJ-SET: Misonica, Mariah Doesn't Carey
27.8. "Embrace" – Das Werk open air / inside
LIVE: Sansibar, Isabella Forciniti, GMNR, PLF,  DJ Gusch
DJ-SET: Haskii, Visitor, Schirin, Bushra
28.8. "Rupture" – Das Werk open air
LIVE: Puce Mary, Dino Spiluttini, Philipp Quehenberger, Idklang
DJ-SET: Yuzu
---
Links: