In the next few days music lovers across the globe will be turning to Barcelona where one of this year's most exciting festivals will take place – the Primavera Sound 2012. In the 11th round, the festival stays true to its claim and focuses on an eclectic mix with indie bands from around the world.
Once again, the Open-Air Festival offers a great line-up with a huge range of indie bands and is a dream come true for those who like to listen to alternative music. The Primavera Sound is known for hosting several musical legends – in recent years, headliners included Lou Reed, Neil Young, Pulp, The Pet Shop Boys and Arcade Fire on stage.
The main stage of the event lies in the large Parc del Fòrum with the Mediterranean Sea as a stunning backdrop. As with many other good festivals, plenty of unofficial events and a relaxed atmosphere belong to the Barcelonean Primavera Sound experience. Isn't that a good enough reason to take a short trip to Barcelona?
Mingling among plenty of brilliant international performers are also outstanding Austrian acts, such as Bernhard Fleischmann and Ginga.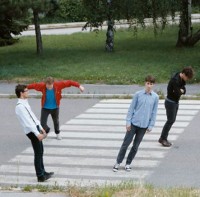 Performing on Thursday, May 31st, 2012 – 17:00 at the Adidas Originals Stage
According to Austrian music critics, Ginga certainly has what it takes to establish itself internationally. Ginga moves in the fields of pop, folk and rock, and succeeds in creating a unique style that clearly stands out. The four musicians approach matters with rather reduced sounds. With this reticency, the songs unfold an extraordinary appeal. The individual pieces are all wonderfully arranged and sprinkled with memorable and beautiful melancholic melodies that leave you in awe. One should be careful with superlatives, yes, but from a musical point of view, the four gentlemen have everything they need for a perfect rock band.
Links: www.thisisginga.com | www.monkeymusic.at

Performing on Friday, June 1st, 2012 – 22:00 at the Adidas Originals Stage
Bernhard Fleischmann was born in Vienna in 1975. His first album, "Poploops for Breakfast" was released on Morr Music back in 1999 and soon became an Electronica classic. Since then he released a bunch of Albums and EP´s, not without changing his style over the years. He's also part of different projects like "The Year Of", a Vienna pop supergroup or "Duo 505″, a collaboration with Herbert Weixelbaum. Recently B.Fleischmann has frequently worked as a composer for various theatre productions and film scores. The morr Music sublabel "Sound Of A Handshake" released two 2cd-sets that feature Fleischmann's stunning live performances.
Links: www.bfleischmann.com | www.morrmusic.com
Last but not least, the Austrian Music Export team will be hosting an Austrian reception with a special cocktail party for the public to meet its representatives, find out about its activities and enjoy an intimate live performance by Bernhard Fleischmann.
Austrian Music Export Reception: Friday, June 1st, 2012 – 17:00 at the Hotel  Zero Terrace
Primavera Sound Website: primaverasound.com