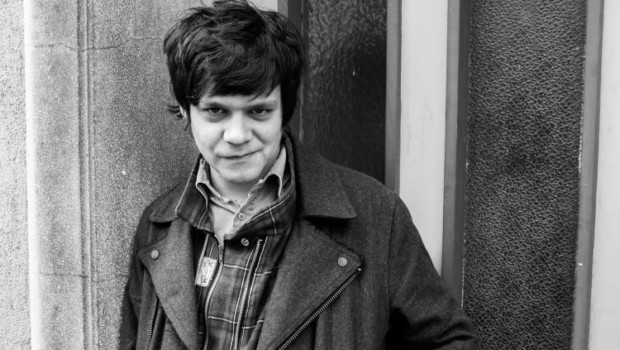 Although he has been around forever, it's only just now that DER NINO AUS WIEN has gotten around to releasing a self-titled record (Problembär Records). It's not surprising though, because it is the tenth album of the Viennese artist. One on which he proves he still has the best nose for the modern "Wienerlied".
Der Nino aus Wien had some nostalgic moments on his last album, "Wach". He conjured up Lee Hazlewood and Nancy Sinatra, approached exotic sounds and even made room for some pop stories. One had the feeling that his songs could have been played by other artists as well, but they would have been absent any charm. Now he presents his tenth album, "Der Nino aus Wien". For many other artists this would mean that they have been in the business for at least 15 years – if not more. But Nino Mandl, as his parents call him, started making music professionally ten years ago. This means one album a year, on average.
ANNIVERSARY ALBUM: THIS TIME SELF-TITLED!
Anyone who has ever read an interview with the American author Stephen King could certainly notice one thing immediately: Stephen King has to write. He can't exist without literature or without his stories. That's why he publishes one, if not two books almost every year. Der Nino aus Wien really seems to be the Stephen King of the Wienerlied. But it's also true that the genre is excellently suited for a flood of new songs. After all, one can sing of both God and the world. The more you believe that the singer has experienced the situations and feelings he´s singing about, the better the Wienerlied works.
Der Nino aus Wien took this genre, combined it with Austropop and made it his distinguishing feature. Just as his voice and his slightly peculiar way of singing also belong to the Der Nino aus Wien brand. The clou is that you never exactly know whether Nino Mandl can really sing well or not. Which he certainly doesn't have a problem with, since Bob Dylan is one of his role models and the American isn't known for his breathtaking vocals either. And both of them have something else in common: they are poets. Sometimes they write tricky, twisted and very complex lyrics. Then again they indulge in everyday situations. And Dylan's lyrics there aren't easy to interpret either.
Der Nino aus Wien is easier to understand. When he revives the essence of an Austrian football fan in "Unterschied gegen Ried", many will recognize themselves in the lyrics. Then again in "Konzert" he invites you to spend the last hours before one of his gigs with him. The song has something of a poem that is recited briefly and crisply in an almost punk manner. And he is so wonderfully ironic, funny, and authentic. Who wouldn't believe Nino that he's already sat in the Railjet (public train) more than enough times and wondered if there were some fans waiting for him at the train station?
These two songs have one thing in common: they seem to give an insight into the life of the Viennese musician. A simple, superficial one perhaps. But Der Nino lets the listener approach him, and that makes him very likeable. On most other songs he then moves back into the sphere of the distanced singer-songwriter. He sings of love, of the urge to always be on the road, and of Vienna. Whereby his songs were not only written there, but also in Munich, Zurich and Locarno. They are fragments from his life. Like "Lola", which he dedicated to his deceased cat.
Der Nino aus Wien came into the world of musicians with his own style and has neither forgotten nor significantly changed it in all these years. He is always the Der Nino who sings a bit strangely, has a cigarette in the corner of his mouth and speaks about his favourite districts in Vienna. He is a fixed part of the Viennese cultural scene and shows with his anniversary album that he does not intend to change anything about it.
Anne-Marie Darok – translated by Dave Dempsey
---
Links:
Nino aus Wien (Website)
Der Nino aus Wien (Facebook)