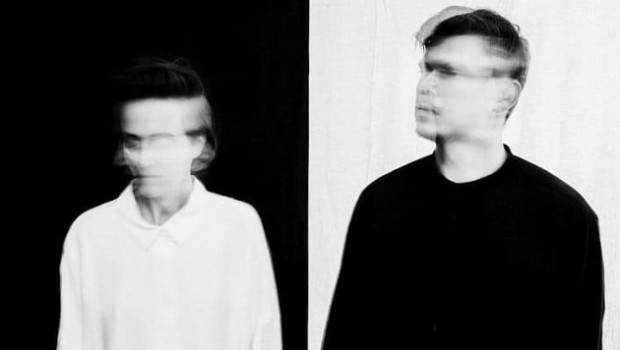 An album that takes a seat between stylistic chairs, one which is dedicated to the big emotions, is deeply immersive and haunting. EXIT UNIVERSE are SUSANA SAWOFF and RAPHAEL MEINHART, and they perform songs on their debut album "Because the world is round" (O-Tone Music) that grab you from the very first second and won't leave you cold.
A quiet, delicate and at the same time playful sound between indie pop, jazz and classical music, which carries a magical solidity within itself, unfolds warmth, develops an enormous amount of emotional depth and really gets under your skin with its melancholic note. Yes, the Duo Exit Universe seems to know exactly how to turn their songs into unique experiences. Susana Sawoff (vocals, piano) and Raphael Meinhart (vibraphone, marimba, synthesizer, percussion) – the two heads behind Exit Universe – celebrate the beauty of sound in their debut work entitled "Because the world is round". They spin musical stories that open up wide spaces due to their calm and discreet nature. Stories in which mood changes into something magically oscillating.
The duo, which until a few years ago was also a couple in private life, has proven to be a perfectly coordinated musical team that can achieve great effect with the cautious use of the means available to them. Every note, every melody, every vocal line, every electronic beat is staged in a varied and, above all, dense atmosphere. Susana Sawoff and Raphael Meinhart alternate great gestures with gripping moments of calm, delicate passages grow inexorably into tense wide arcs, light and heavy notes dance electrifyingly, and that outside the traditional song structures. It's really hard to pick out single highlights because every song on the album has its own incomparably beautiful moment, one which really captivates you and makes you forget about all else around you.
"Because the world is round" is an album that truly stands out. Exit Universe's music combines a unique sound, great songwriting, imagination, and feeling in an immensely appealing way. Susana Sawoff and Raphael Meinhart's first work is a truly impressive musical organism.
Michael Ternai (translated from the German article by David Dempsey)
EXIT UNIVERSE live
12.05. Orpheum, Graz A
28.06. BIX Jazzclub, Stuttgart DE
29.06. inJazz 2018, Rotterdam NL
25.10. Gruppe Dekadenz, Bozen IT
27.10. Fürther Jazzvariationen 2018, Fürth DE