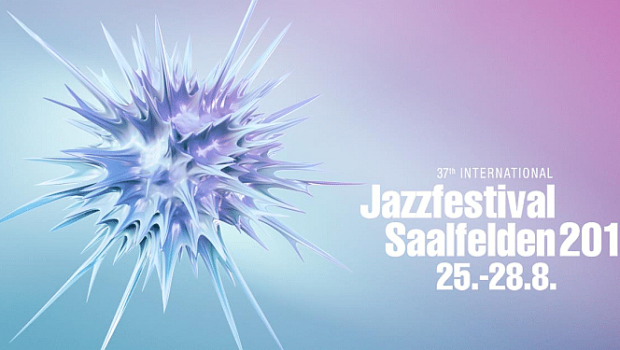 The International Jazzfestival Saalfelden is known as a playground for free spirits and has been a fixture on the international jazz circuit for more than three decades. Each year at the end of August musicians from all over the world gather in the small town of Saalfelden to delight listeners with refreshing and colorful sounds in a magnificent Alpine setting.
From August 25 – 28, 2016, Saalfelden will become the center of the European jazz world. Over a period of four days, 30 concerts will take place at four venues. Artistic directors Michaela Mayer and Mario Steidl have once again put together a diverse musical program.
AN EXCITING GATHERING OF THE INTERNATIONAL JAZZ SCENE
The lineup for the Saalfelden Jazzfestival has been stacked with artists who represent a large stylistic range of today's jazz. Festival visitors can look forward to a varied program, including performances by Henry Butler, Steven Bernstein and the hot 9 Viper's Drag, Tim Berne / Marc Ducret, Dawanggang, the Marty Ehrlich Sextet, Jim Black New Quartet, Erlend Apneseth Trio, Thomas de Pourquery 'Supersonic' as well as the Austrian jazz bands Namby Pamby Boy and Edi Nulz.
The festival will also feature acts from the world music field and present artists such as Mostar Sevdah Reunion and Douba Foli as well as Austrian world Bands including Ostbeatband, Salah Ammo, Orwa Saleh & Friends, Kollegium Kalksburg and In Compagnia. The festival will be opened with a piece from Lukas Kranzelbinder that was especially commissioned by the festival directors Mario Steidl and Michaela Mayer. The commissioned work is entitled "The Golden Fang" and will be performed by his new band SHAKE STEW as the opening act on the main stage.
AN INTERVIEW WITH FESTIVAL DIRECTOR MARIO STEIDL
How does one reach a jazz audience. Where does one begin?
Mario Steidl: Actually, it's pretty simple. Make a program for an older audience. But I am not certain that is the only alternative. For us in Saalfelden it is important that we feature young musicians and not just veteran jazz musicians who, of course, have earned a plce in jazz history but aren't providing any innovative input any more. Don't misundertand me. There are older things that have their justification but where you have to ask yourself if it's really worth it to host them. For me, the right way is to present new young musicians. If I can reach a younger audience that way? I'm not so sure. But I do think it is the right way.
In the editorial or your festival magazine it says "Someone will certainly ask themselves if one or the other concerts is really jazz or not. This question is probably as old as jazz itself." That forces the question: How far in the direction of pop or club culture can jazz  orient itself without disavowing itself?
Mario Steidl: An important characteristic of jazz is that it isn't just a musical style, it is an attitude. And jazz is so fascinating because it has always borrowed from all possible genres. It has always happened, and still happens, that it slips into the commercial. But that isn't it's actual nature, and it is certainly not the nature of the jazz we represent here in Saalfelden. Jazz is just as much experimental laptop-improvisation or the echos of progressive rock or classic free-jazz. Perhaps newly interpreted. The genres have simply, over the years and decades, become more numerous. And the occasional slide into commercial is just the nature of things.
Jazz as an open system that is sensitive and reacts to social changes as well as established social power-structures. Is this counterpoint to mainstream more important today than ever before?
Mario Steidl: I wouldn't say it is more important than ever. Reacting to established social power-structures was always an important aspect of jazz. Wether as an expression of black self-assertiveness, as a simple political statement, or as an act of protest, for whatever reason. That was always intrinsic to jazz, and it exists now like it always has.
Can you be more specific?
Mario Steidl: I am thinking, for example, about Bobby Previte who named his album "The Coalition of the Willing". Or of the Ahleuchatistas, who played here and named their album "Remember Rumsfeld at Abhu Graib" to reflect on the Iraq war. Or on the old warhorse James "Blood" Ulmer who played here last year and, with "Are you glad to be in America", asked us a provocative question. It's not just jazz. Other genres do that too. But in jazz it was always there. This examination was always an important aspect of jazz.
Those were all U.S. examples though. Can you also find that in Europe or Middle-Europe?
Mario Steidl: I can't think of anything off the top of my head, but it's certainly a result of history and the current racism debate in the U.S. On the other hand, the boundaries between U.S. jazz and European jazz have been blurred and no longer exist like they used to. But here there are definitely projects that have clearly postioned themsevles against right wing developments.
What would you say is the most important aspect of your programming?
Mario Steidl: The most important is musical openness. For us it's about finding musicians who develop an individual musical language and identity. In jazz, as in many other genres, there is a lot of pretentious rhetoric. Endless quoting of history. It is becoming ever more difficult to find msucians who have an individuality that can also be recognized.
Sounds like an eternal search…
Mario Steindl: Yes, of course. But that is also the beauty of it. Looking for music, discovering something new, experiencing something new, that is exciting. In the meantime we are in the digital age and anyone, completely independant of how long or how well they have been playing an instrument, can record an album and present it to the world. We are being flooded. As a festival producer we are sent an unbelievable amount of music, and listen to it all, becuase there will be some gems in there. But – and everyone knows this – it is unbeleivable how much garbage is out there. That means the selection becomes more laborious, and it becomes more difficult to filter out the good, the new, and the different out of the flood of new releases. But putting together a program is of course, to a certain degree, subjective.
You always have an Austrian focus and commission an Austrian musician to open the main stage at the festival. Last year it was Maja Osojnik, if I recall. Why is that important and who will be opening this year?
Mario Steidl: The commission is for 10.000 Euro and we pay the travel and lodging costs and provide the Kunsthaus Nexus for rehearsals, which has always been accepted, and pay flight costs if it is an international project. The goal is, year for year, to promote an Austrian artist and to support the realisation of a project that under normal financial situations wouldn't be possible. The commission should make it possible for an artist to present themselves to a larger audience and to get the accomapyning international attention. Connected to that is the possibility then that other producers can book the project.
Who got the commission this year?
Mario Steindl: Lukas Kranzelbinder. If I remember correctly he is the youngest musician to ever receive the commision.
What was the determining factor?
Mario Steindl: The main reason is that he is incredibly versatile. He has already written an opera, is involved in projects from Japan to Mexico – and is extremely successful. For example with Mario Rom's Interzone. And he is an Austrian musician who is young and bold enough to provide fresh input to an entire scene. Because he dares to do something and takes inspiration from every possible genre. He was already a guest here as part of Mario Rom's Interzone. It was only natural that we would let him open this year. With his project SHAKE STEW he is exploring the genre independent sound possibilities.
Are there any program highlights you are particularly looking forward to?
Mario Steindl: The opening project we already talked about. Then Krokofant from Norway, because I enjoy rock and that project displays some very strong progressive rock influences. The Tomeka Reid Project with Tomeka Reid, Mary Halvorson, Jason Roebke and Thomas Fujiwara. Reid's last album was a perfect example of outstanding idividuality. I listened to it repeatedly for over a month… There are only a few musicians who have a truly indidivual style and form language. A true highlight for me.
Casandra Wilson with Harriet Tubman, one of the few projects that have a well known name. Or also the Émile Parisien Quintet featuring Kühn und Portal. Or Edi Nulz who deal with the subject in a cocky and laid-back way, a super opener for Saturday. Chiri from Australia and Korea, who will be conjuring up a burst of color on stage with "Return of Spring". In total it's a program that is very young.
Links:
Internationales Jazzfestival Saalfelden
Internationales Jazzfestival Saalfelden (Facebook)