For the 20th time Austrian music industry companies will join forces and present themselves at MIDEM 2014, the largest international trade fair for music. After the successful performance of Austrian musicians at the showcase festival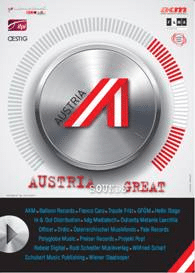 Eurosonic, the international marketplace MIDEM in Cannes will serve as the business hotspot for music publishers and producers.
From the 1st – 4th of February 2014, 21 Austrian companies and organizations will present themselves at a joint booth under the motto: AUSTRIA SOUNDS GREAT.
The Austrian stand is supported by the AKM/GFÖM, IFPI/LSG, Film and Music Austria (FAMA), ÖSTIG and AWO – go international.
Cooperation partners are Austrian Music Export and the film magazine Film, Sound  &  Media.
"Despite a smaller booth, almost the same number of companies and organizations will represent themselves at the Austrian exhibition stand as in previous years. The MIDEM fair may have become smaller, but Cannes is still an attractive meeting place for international business. The personal contact has intensified and brings deals of higher quality. This year we chose to pass on showcases at MIDEM in favor of the focus on Austria at Eurosonic," explains Mario Rossori, organizer and mastermind of the Austrian presence at MIDEM 2014.

"Visitors of the exhibition will experience a musical journey through Austria with the CD "4444 seconds of Austrian Pop!- Music (Vol. 15)"  of the project pop! and the Austrian Rockhouse Sampler "Salzburg Sounds Xtra Ordinary! (Vol. 17)". On Saturday the 1st of February our business partners are invited to the traditional Happy Hour starting at 5:30 p.m. at the Austrian booth." (R 6.07 )
The following Austrian companies are represented at MIDEM 2014:
AKM, Foreign Trade Austria, Balloon Records, Franco Caro, Melanie Dulcetta, Traude Fritz, GFÖM, Hello Stage, Inandout Distribution, kdg mediatech, Officer, Ordis, Austrian Music Fund / Project pop!, Pate Records, Polyglobe Music, Preiser Records, Rebeat Digital, Wilfried Scharf, Rudi Schedler Musikverlag, Schubert Music Publishing and the Vienna State Opera.
Link: www.midem.com