He took his own sweet time. It's been more than three years since his brought out his last album "Firedancer". But now GEORG ALTZIEBLER aka SON OF THE VELVET RAT is back with his new album "Dorado" (Fluff & Gravy). And it's going to get under your skin.
One thing becomes obvious after a first listening of "Dorado". This man hasn't lost his touch. Georg Altziebler is once again putting together that primal. honest and edgy sound. That sound that is timeless and makes the idea od musical epochs obsolete. The sound that lets him tell his own story.
The Styrian born and California based musician is doing his own thing. Just like he has always done. A path that avoids current trends, that gives him his own musical language, and that he is able to translate in the most striking way into his songs.
A PRIMAL SOUND THAT IS CAPTIVATING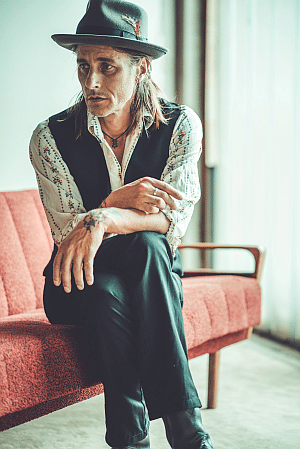 Georg Altziebler has been blessed with a charismatic and expressive voice. Something he puts to good use on "Dorado", breaking down the music do it's very essence. Now more than ever before his pregnant and elegant reserve transforms his songs into something great and atmospherically dense.
Vocally and instrumentally supported by his wife Heike Binder on keyboards, Altziebler deftly weaves a style somewhere between folk, blues, and country. The tone however varies, from heartrending melancholy ("Carry On", "Copper Hill", "Shadow Dance") to a reconciliatory ("Love's The Devil's Foe", "Angela", "Tiger Honey") view of the past. Every now and then it even starts to swing ("Surfer Joe") which just gives the whole album another exciting facet.
On "Dorado" Georg pulls out all of the stops, using the whole pallet of his musical skills. It is an impressive display of just why he is where he is. At the top of the Austrian singer-songwriter scene. "Dorado" is a work that will leave no listener untouched. It is full of emotion and haunting beauty. An honest beauty devoid of sugar-coating or artifice.
Michael Ternai (adapted from the German by Dave Dempsey)
Son of the Velvet Rat live
20.04. KUD Channel Zero, Ljubliana (SLO)
03.06. Galao, Stuttgart (D)
04.06. Sänger und Sirenen, Hamburg (D)
11.06. Lost Weekend 'The Munich Sessions', München (D)
12.06. Live Club, Bamberg (D)
14.06. Knust, Hamburg (D)
15.06. Frapé, Aalen (D)
29.06. Wunderbare Weite Welt, Eppstein (D)
01.07. Scheune, Wredenhagen (D)
02.08. UFO, Bruneck (ITA)
Links:
Son of the Velvet Rat
Son of the Velvet Rat (Facebook)
Fluff & Gravy