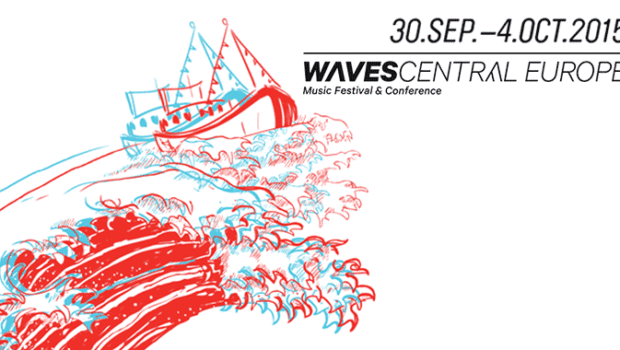 Celebrating its 5th anniversary from September 30 – October 4, WAVES Central Europe welcomes music experts from all over the world to attend the festival and conference in Vienna and Bratislava. The specialty of Austria's only club and showcase festival is the successful and fruitful exchange between international multipliers, the local music market, new acts, and concert fans of all kinds.
2011 marked the launch of Waves Vienna, the first club and showcase festival in Austria. In 2013 Bratislava joined as a partner city. This successful cooperation of both cities has now been solidified with the new name "WAVES Central Europe".
"While booking more than 120 acts this year, we only had to explain a handful of managers what WAVES is all about," answers organizer Thomas Heher when asked about a personal retrospective, and he continues: "In 2014 we had 14,000 festival visitors and 1,000 delegates."
Right from the start, the aim of this venture was to connect music markets. "We want to connect North and South with East and West, especially in Europe. We create transnational networks between event organizers, bookers, label owners, managers and artists. This makes WAVES an important stepping stone in assisting the export efforts of local acts."
In order to accelerate and promote this exchange, WAVES sets an annual focus on different guest countries to give them an increased presence at the festival and conference. This year these focus countries are Estonia, Latvia and Lithuania.
WAVES CONFERENCE VIENNA & BRATISLAVA
The conference days start in Vienna with the Vienna Music Business Research Days. Taking place from September 30 – October 1, the main topic is "Financing Music In The Digital Age".
Peter Tschmuck explains the theme of this year's VMBRD: "Traditional financing models are outdated. The future lies in crowdfunding, with venture capitalists, or in the monetization of video streaming."
'Crowdfunding' also was and is an important issue for Martin Atkins, the former drummer of Public Image Ltd. He will be holding a keynote speech at the WAVES Conference, once again this year co-organized by mica – music austria.
Sabine Reiter, the CEO of mica – music austria is quite pleased about the cooperation: "WAVES is an excellent and important partner for all export activities that we run together with the Austrian Music Fund under the brand AUSTRIAN MUSIC EXPORT."
The British producer Simon Britton (Eminem, Michael Jackson, Run DMC, Kool & The Gang…) will host a public artist talk with the Austrian drum'n'bass shooting stars Camo & Krooked. Parallel to this, the workshops "Festival Greening" and the "FM4 Soundpark Listening Sessions" are a must go for music aficionados. The program is as vibrant, varied and dense as ever. Little Boots and Susi Ondrusova (FM4) will talk about women clichés in the music biz. Finland, Slovenia and Switzerland will welcome guests at their own networking slots. The Baltic states will offer many valuable tips for all export ready musicians and their business partners.
Location: University of Music and Performing Arts (Vienna)
Date: 09/30 + 10/01 all day

On October 2nd the conference continues in Bratislava. "How do I get my music in commercials, film and TV?" has become an important question for musicians and is the topic of the sync panel. With B-Complex, Simon Britton will add to the Austrian-Slovakian success story in Bratislava. Further conference discussions include the benefits of showcase festivals, synergies between cities and music, networking, etc.
Location: Hotel Crowne Plaza (Bratislava)
Date: 10/02 all day
WAVES FESTIVAL VIENNA & BRATISLAVA
120 Acts. 3 Days. 2 Cities. The festival program includes Austra (CA), Ebony Bones (UK), Little Boots (UK), Mike Skinner (DJ-Set, UK), Pablo Nouvelle (CH), Sekuoia (DK) and Sizarr (DE). Performing from this year's focus countries are: Elephants from Neptune (EE), Alise Joste (LV) and Golden Parazyth (LT).
Austrian acts that are not to be missed: Anja Chiara, Lea Santee, Cardiochaos, Clara Blume, Konea Ra, Le Toy, Mthr, Avec, Granada, Austrian Apparel, Namby Pamby Boy, Akjela, Maximilian Meindl, Elsa Tootsie, Filament, Nicole Jaey, Inner Tongue, Colostrum, Lehnen, Karma Art, Leyya, Mynth, Abby Lee Tee, Ankathi Koi, Lian, Toju Kae, Uciel, Nutrasweet, Pola-Riot, Gasmac Gilmore, Mother's Cake, Heart Hearts, Portha, Ant Antic, Schmusechor, Robb, Like Elephants, Mr. Myster, Neuschnee, Lylit, The Unused Word, We Walk Walls, among many others!
WAVES FESTIVAL – SIDE EVENTS
In addition to the festival and conference, there will be a series of side events taking place across the city: The Waves Birthday Party in the Alte Post (festival central), the "Music Hackday" for Think Tank Fans, the free mica – music austria workshop "Organizing the right way" and "Interview Training" on October 4, the record label market, film screenings (e.g.: "Hip Hop in the Holy Land", director: Mike Skinner), readings from and with Stefanie Sargnagel, Andreas Dorau & Dirk Sterman, and a lot more!
LINKS
www.wavescentraleurope.com
www.facebook.com/wavesvienna
www.facebook.com/wavesbratislava
TICKET PRESALE
3 Day Pass Festival + Conference EUR 125*
3 Day Pass Festival EUR 69*
*Incl. free Shuttlebus VIE -> BA, BA -> VIE several times daily.
Daily passes EUR 12-34
www.wavescentraleurope.com/tickets
PRESS CONTACTS
Festival: Thomas Heher thomas.heher@wavesvienna.com
VMBRD: Peter Tschmuck tschmuck@mdw.ac.at
Conference: Babsi Steiner steiner@musicaustria.at