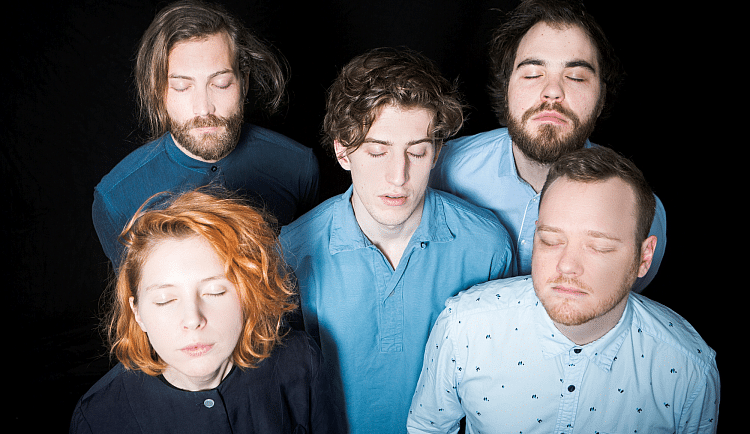 The debut album from 5K HD has finally arrived and its title is as mysterious and cryptic as the band's music. The previously released single "What If" finally has some musical siblings. Or rather, the first official single from the band has found a place in a musical framework that is simply wonderful.
It's bad form for the very beginning of an article to give away the conclusion. In this case, that the album "And To In A" is really good. But why play games? Why keep secret something that any trained listener can conclude after the first listen? It's obvious that misplaced secrecy won't do justice to 5K HD.
JAZZ SOUNDS AND AN ORIGINAL VOICE
This supergroup, that doesn't really want to be called that, is composed of two important base elements. Kompost 3 and Mira Lu Kovacs. Fine ingredients for an excellent cocktail. Kompost 3 provides creative and visionary experimental jazz, and Mira Lu Kovacs a delicate, strong, idiosyncratic, and original voice. What could go wrong?
Nothing. Nothing at all.
The album begins with a song that the members of 5K HD recorded before 5K HD even existed. It is the perfect gateway into a world where jazzy sounds float above an electronic abyss. It's actually a modern RnB song. The emotional beat pumps its way through the song and the synth sounds are vaguely reminiscent of brass instruments, but only because there is nothing better to compare them with. Similar sounds can be found on "Ted", a song by the electronic musician Clark.
The two songs share certain parallels: a groovy beat, their experimental but structured nature, and the playful way high and low sounds are balanced out. And then the RnB elements begin to break down when "Trouble Boy" begins. The song is somehow disoriented, it tells its story and then gets wilder and wilder until Mira Lu Kovacs begins almost imitating birdcalls. This is where a comparison with "Devil Mood" could be made. That is a song from Smoke City, a band whose music lived from a mix of Brazilian sounds and trip hop. And from Nina Miranda, the British vocalist who has a somewhat similar voice to Mira Lu Kovacs. On "Devil Mood" she also falls into a desperate but powerful chirping. Listening to the music on Smoke City, it is easy to imagine that Nina Miranda and Mira Lu Kovacs could enjoy working together.
THE ALBUM IS GOOD, NO DOUBT ABOUT IT
But back to the subject: further gems on "And To In A" include "Ice Bird", "Not a Love Song", and "What If". The last one, the first single, made it clear that great things were going to follow. The song is crispy, controlled, and modern. The vocal melody on "Ice Bird" is reminiscent of Feist, but eventually becomes a grooving piece of music. And "Not a Love Song" hits hard. Not with guitars, but with an endlessly deep droning bass.
At this point it must be clear to the reader that "And To In A" is more than highly recommended. Of course, there is always the chance that the album might not fit the personal tastes of a few listeners, but there is no reason not to put this record into rotation.
Anne-Marie Darok (translated from the German by David Dempsey)
5K HD on Tour
06.10.2017 WUK, Wien
07.10.2017 Milla, München DE
09.10.2017 Kantine am Berghain, Berlin DE
10.10.2017 Lichtung, Köln DE
11.10.2017 Häkken, Hamburg DE
12.10.2017 Orpheum, Graz
18.10.2017 Treibhaus, Innsbruck
19.10.2017 Spielboden, Dornbirn
21.10.2017 Little Big Beat Studio Live Session, Eschen LI 
25.10.2017 Container 25, Wolfsberg
26.10.2017 Stadtwerkstatt, Linz
Links:
5K HD
5K HD (Facebook)
Seayou Records