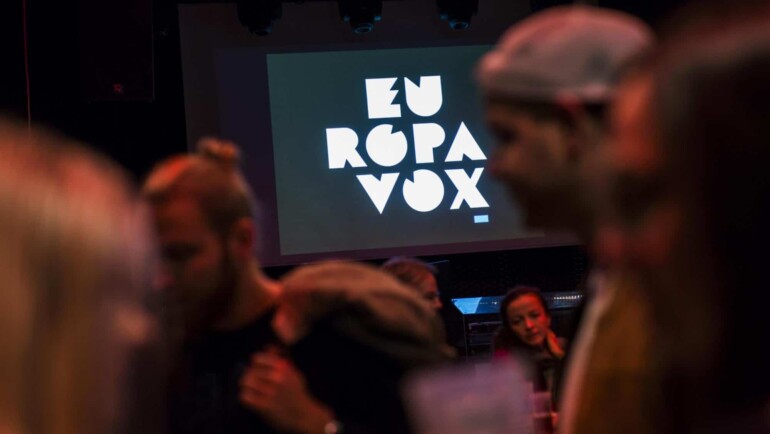 For a decade and a half, the EUROPAVOX FESTIVAL in Clermont-Ferrand, France, has been famous for presenting wide-ranging music from Europe. Europavox was born in the heart of Auvergne, in 2006, with the desire to show European musical diversity. Since 2016, the project has been expanding with offshoot festivals in six other European cities, supported by the European Union's Creative Europe program. Vienna is one of them, with the venue and cultural hub, WUK Vienna, as the Austrian project partner. Don't miss Europavox's Vienna edition at WUK from November 26th – 27th!
The Europavox Project has been developing new international projects and events since 2016, including the Coaching Export Programme and europavox.com, dedicated to the promotion of European artists. In addition, Europavox Project brings together 7 European partners in 7 different countries: Le Botanique in Belgium, Fuzz Productions in Greece, Estragon in Italy, INmusic Festival in Croatia, Loftas Fest in Lithuania, WUK in Vienna and of course Europavox in France itself. These partners produce annual Europavox festivals, with an exclusively European program.
The Europavox Festival returns to WUK this year. For the fifth time, the crème de la crème of European music will present themselves and satisfy anyone's auditory wanderlust. On November 26, the festival kicks off with the psychadelic-funk of Takeshi's Cashew, who already captivated the festival crowd at Waves Vienna. Ahead of them are the Serbians of Koikoi, who bridge the gap in the Balkan music scene between the intimacy of the underground and mainstream glamour. Yegor Zabelov, one of the most original accordion players in Eastern Europe, will open the evening.
For the second day of the festival on November 27, the Villagers come to town with their current studio album "Fever Dreams", made in Dublin. Next but not least is Sharktank, who have provided light and color in the midst of these dark, strange times. They will be supported by Danish electronic pop artist Lydmor, who is coming back to WUK after her performance at the Ja Ja Ja Festival 2019, as well as Belgium's neo-soul wunderkind YellowStraps.
Austrian Acts 2021
Go to your record shelf and find that whimsical (and unforgettable!) folk vinyl you once found at a flea market somewhere on your travels. Now imagine that sound complemented by vintage synthesizers, flutes, surf guitars, a hell of a lot of space echo… and electronic down tempo beats!
Takeshi's Cashew (Laut & Luise, Berlin) are a newly formed psych-funk group exploring the boundaries of club culture, world music and 70s psychedelia. They all come from different musical backgrounds and create a colorful fusion of their respective genres, embedded in a club-like beat framework. Their often complex arrangements elevate them to a beautiful and danceable potpourri.
Quite the story: Not even a year after the very first meeting between Katrin Paucz, "Mile" Michael Lechner and Marco Kleebauer, they release a highly-anticipated debut album as Sharktank, and the sky's the limit from there.
The trio has provided light and color in the middle of this dark, strange time, because there's one thing they haven't forgotten to do: have fun. And that is, fortunately, very contagious. The previously released singles "Washed Up", "Too Much" or most recently "For Myself" ran intensively on the radio throughout Europe and have been immensely popular on streaming services. The EP "Bad Energy", released spontaneously in the fall of 2020, immediately earned Sharktank an Amadeus nomination (category "Alternative") – which is remarkable, especially considering the band's very short lifespan, so far.
---
Links: