Inspired by the US Black History Month, FM4 is directed their spotlight on black musicians who are still far too unnoticed in this country.
Translated from the German original, published on February 20, 2020.
---
Black History Month is currently being held in the USA. A month of commemoration in schools and other areas of life for the achievements of black Americans. Be it political, scientific and cultural or other achievements. Inspired by this idea, we thought that it was about time to let our spotlight shine on black musicians who are still far too unnoticed in this country. You know Crack Ignaz, salute or Melanie Ebietoma from Möwe, but who else do we really need to look at and listen to?
Ada
Finally good RnB from Austria. Ada and her BFF and Producer MadL crafted "Trapsoul" where production and especially the flow are just right. Formerly in Salzburg, today in Vienna.
At Pavillon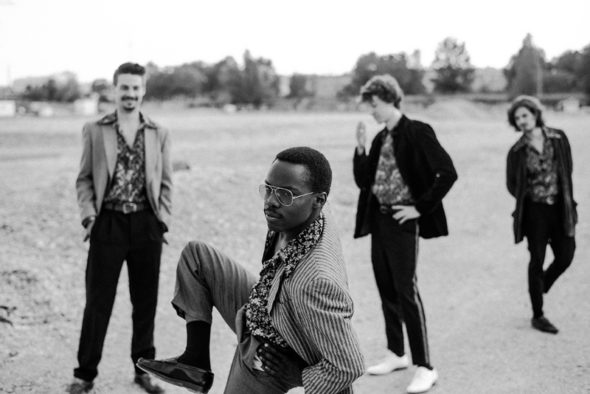 If you prefer rock guitar sounds instead of 808 beats – also an Afro-American invention – you have to check out the band around frontman Mwita Mataro, At Pavillon. Flashy Indierock with big feelings, which breathes new life into memories of sweaty evenings in Flex or B72.
Dorian Pearce
Industrious listeners of FM4 must have stumbled across his Throwback inspired feelgood love song "You Feel Its True" last year, in which Kinnetical from Linz was delivering the bars. Dorian Pearce spins records, is co-host of "Rappers read Rappers" and produces funky, smooth Hip Hop, which he presented us in 2019 via his debut EP "Mission Statement".
Hightauer & Rice Master Yen
Hightauer was a saxophonist and breakdancer, but that wasn't enough for him and that's why he now raps with a super smooth 90s flow and conscious, playful lyrics over short, crisp and adventurous experimental beats from Berlin producer Rice Master Yen.
Iloveakim
From his bedroom in a Lower Austrian suburb, producer and rapper Iloveakim conjures cloudy lo-fi about worlds of soccer, standing at the window or bitching. A funny, extremely catchy sound with much more lying behind it than the high level of catchiness.
Jenny
The Salzburg native has only released one song so far, but it's already a masterful banger which could easily top the German Hip Hop charts.
Meydo
T-Ser are known by most of the Hip Hop fans already. Even outside the German borders. But in T-Ser's haze circle – the Akashic label – there are some more extremely talented artists. For example the Afro-Trapper Meydo from Graz. Meydo connects the sound of Atlanta with the street sounds of Paris and Lagos. And always has the best style to go with it all.
Rose May Alaba
Afro-pop with a neat production value & Pon Pon sound is not only available from Nigeria, Ghana, France or London. In Vienna, Rose May Alaba is responsible for a sound that can rival that of Afro-Pop stars Yemi Alade or Tiwa Savage.
Sidney
Also from the Akashic Recordz squad, Sidney can groove over the beat with a solid trap for one, but wavy too.
By Dalia Ahmed