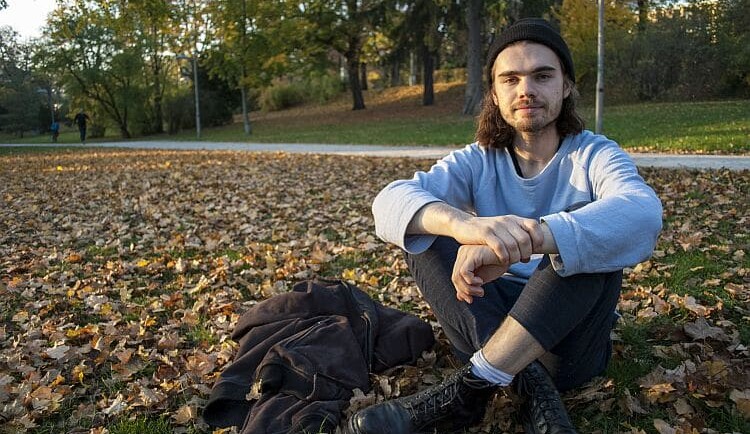 MARCO KLEEBAUER recorded his first solo album under his own name, "Magnolia" (Minor Changes), partly between his work as producer for BILDERBUCH and OEHL. The fact that he finds time to produce award-winning albums and to set his own dreams to music at the same time testifies not only to his work ethic, but also to his near-inexhaustible creativity. In a conversation with Benji Agostini he explained how the concept of a 'dream album' came about, why he felt the need to release it under his own name, and why cell phone recordings are often the better ones.
In your early days as a producer, you tried to recreate the sound of Flying Lotus. Do you think your solo album is a continuation of that?
Marco Kleebauer: Flying Lotus is definitely still an influence for me – you could especially hear that before the album. That was also the reason why I made "Magnolia" under my name. I have the feeling that I've found my sound and am no longer imitating anyone. This time, I didn't listen to any music before writing. That was difficult in the beginning, because you can quickly get on your own nerves. I have always tried to get as far away from myself as possible and with "Magnolia" I have also discarded the thought of what others might think about the music. I finally did it for myself and don't assume that millions of people will hear it, but I have to be able to say that it is a snapshot of myself.
So it was also a kind of liberation for you to release something under your own name?
Marco Kleebauer: Exactly. That's why I'm still not sure what it should be.
Does it necessarily have to have a name?
Marco Kleebauer: No, but if you have to talk to others about it, it gets weird. The production itself took place not that long ago and of course there's a lot of myself in it. I need to find out for myself first which kind of vibes emanate from it. I definitely know it's me, but I can't say exactly what it is yet. It's probably up to everyone to find their own story.
It helps a lot of people to divide music into genres to orientate themselves better. What is your approach to genres and their conventions?
Marco Kleebauer: Basically, I don't think about such things. Genres in themselves make sense however; to be able to get an idea about it when you talk about it. My music can best be described as electronic music, but you can't break it down further into sub-genres. While producing I just follow my feeling. I try to bring all my musical influences together, but it will never be the case that I bring so many elements of one genre into my music that you can clearly call it that. It wouldn't be representative of my taste. For me it would be boring to serve only one genre.
From this point of view I find it very difficult to say when a song is really finished. How easy is it for you to get to a point where you are satisfied with a song?
Marco Kleebauer: Many people tell me that I am already very fast at finishing songs. My goal is not that a song has to have a perfect sound. In my opinion the mix of a song is never finished. You just stop at some point. For me it is much more important that the vibe is preserved. The faster I finish a song, the more of it remains. As soon as a song has something that I like, I don't work on it anymore, and this happens relatively fast.
"I HAVE NO DESIRE TO LISTEN TO MUSIC THAT IS TECHNICALLY ELABORATE, BUT DOESN'T HAVE MORE TO OFFER."
So you don't go by genre, but by vibe?
Marco Kleebauer: Absolutely. That's also the common denominator of the music I listen to. I don't feel like listening to music that's technically complex, but doesn't have more to offer.
Can you name the vibe?
Marco Kleebauer: There is not one vibe. In films, for example, there are often camera angles where you think you are seeing more than the sum of its parts. And that's also the case with music, and thank God that often it can't be explained. My favorite music is usually very simple, but something about it makes it special. For example, when I record a scrappy demo and decide to clean it up again, you often notice that there was something special about the demo. Most of the time it's a mixture of spontaneity and ideas that weren't thought through to the end. That becomes the vibe.
"HUMANITY DOESN'T DEPEND ON WHETHER THE KICK IS ON ONE OR TWO."
You say that when you're producing, you're just following your feeling. How do you retain whether a track is really good and can self-doubt arise?
Marco Kleebauer: I make music first and foremost for myself, also because in the past I didn't think that someone would listen to it. If that were something that I don't enjoy, then I would have to force myself to do it. As soon as it's fun, I like it too. I'm also quite good at not tying myself emotionally to ideas. Without it I would work hundreds of hours on something and be in despair about it. You can't get into it too much. The best things happen when you don't expect anything anyway. I've noticed that it's also good for me as a person when I'm like that – and at the end of the day it's just music. I have to keep it in mind again and again: humanity doesn't depend on whether the kick is on one or two.
The overriding theme of "Magnolia" is dreams. How can you imagine the setting of dreams to music in concrete terms?
Marco Kleebauer: The fact is that I don't hear anything in my dreams. So maybe I do hear something, but I don't remember it in any case. Only very special sounds – like the creaking of a door for example – remain. At some point while making music I noticed that something sounded just like what I had experienced in my dream. For example, I dreamed that I was lying in bed, couldn't move and heard a door creaking. From the corner of my eye I saw the door open and a black shadow stood in it – the cliché of sleep paralysis – and I had the feeling that it was approaching. I wanted to move, but couldn't and then of course I panicked and pulled myself out of the dream like a chewing gum. It takes a lot of energy and in the first seconds after waking up it's very intense, but two minutes later I almost have to laugh. You can't really imagine it as an outsider and the feeling of it gets more and more lost. That's why the music often sounds like you don't know if it's serious or not. It's not only dark, there must always be humor and something positive.
If you listen to the songs later, can you still remember the respective dream?
Marco Kleebauer: Yes, definitely. It's like a photo or a certain smell. There was also a thought about the album whether certain sounds could trigger something in me and especially in someone else. I'm curious to see if that will still be the case when I listen to the songs in a year. In part I can't remember anymore how I recorded certain parts because everything happened so fast.
Did that also make it harder for you to perform the songs live with a band?
Marco Kleebauer: To have a band playing with me live wasn't planned for in the beginning. Only at some point it became clear to me that it was the only way to really bring the music to the audience. Rhythm is very important to me. When recording percussion instruments, for example, I didn't just record four bars and copy them, but I recorded them in a continuous way. A constant but subtle variation arose as a result, which is indispensable for this kind of music. For me it just had to sound this way on stage. It's also important for the audience to have a connection between what they hear and what they see. It was a lot of work to do the songs live, but otherwise a lot of the potential would have been lost if the people didn't see where the sounds came from.
"WHEN EVERYTHING IN A PHOTOGRAPH IS IN FOCUS, YOU DON'T HAVE DEPTH, AND THAT'S HOW I SEE IT WITH MY RECORDINGS TOO."
Do you record all the samples for your music yourself?
Marco Kleebauer: Basically I record everything. For me it's more logical than searching for a sound in a sample library for three hours. "Happy End 3″ was created, for example, when I tried out an electronic piano in a music store and recorded the whole thing with my cell phone. It had something special, probably because the melody was spontaneous. And at some point people behind me started trying out cymbals. Funnily enough, you always hear them in the right places on the recording. That's why the first half of the track is pretty free. The recording also defined the arrangement. You're pretty much limited with cell phone recordings and it's hard to make something like that sound good, but I'm not interested in just hearing perfect sounds. When you combine something like that with a well-recorded sound, it can become something special. When everything in a photograph is in focus, you have no depth and that's how I see it with my recordings too.
For the album you now have also established your own label, Minor Changes. Was that for pragmatic reasons or did you want to emphasize the unique selling point of your solo project?
Marco Kleebauer: For me, the big picture was important for the album. It was important to me that you take your time listening to it; in the best case you, listen to it from start to finish and perceive it not under any other influence. And I didn't want to stop with the music. Everything on the record should minimize any bias. If there's a label on it, you have certain ideas about what it sounds like, and you listen to the music with different ears. It was important to me that you first listen to the music and then judge it.
If you had carried out the thought consistently, wouldn't it have been better to publish it under a pseudonym? After all, on every occasion your name is associated with Bilderbuch, Leyya, Oehl, etc…
Marco Kleebauer: That was a brief thought, for once. But still I am the one who makes the music, and the people should know that too. If I had thought about a pseudonym, it would probably imply a certain genre again. I couldn't have released the album under my old project name Karma Art, it wouldn't fit for me. With my own name it doesn't matter, it's more about the music. There is no mysticism behind it. It's just the guy who makes the music, and that's what it's all about.
Thank you very much for the interview!
Benji Agostini
[Translated from the German original by Julian Schoenfeld, 2019]
---